UK regulators have, as expected, approved the Boeing 737 Max for return to service, publishing a separate airworthiness directive to the European Union Aviation Safety Agency.
This separate publication follows the UK's exit from EASA membership as it completed its withdrawal from the European Union on 1 January.
But the UK Civil Aviation Authority's directive closely matches the EASA version owing to the UK's involvement in the work undertaken by the European authority.
It retains key EASA differences from the US FAA's requirements including particular crew training and procedures, the temporary prohibition on RNP-AR precision approaches and the installation of caps on the stick-shaker circuit-breaker.
"This CAA [directive] is the authority's decision not to adopt [the FAA directive] for UK registered aeroplanes," it states.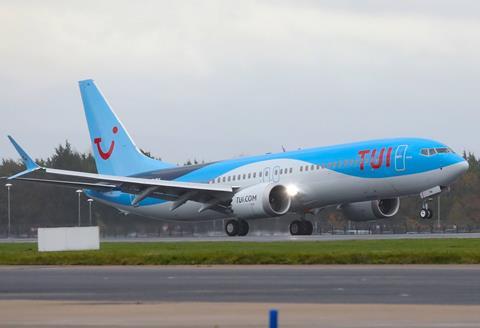 CAA chief executive Richard Moriarty says the approval is "not a decision we have taken lightly".
Airlines will be permitted to conduct passenger services with the twinjet type, subject to "close oversight", and a ban on the Max flying through UK airspace will also be lifted, says the regulator.
UK leisure carrier TUI Airways is an operator of the 737 Max.
"We will have full oversight of the airline's plans including its pilot training programmes and implementation of the required aircraft modifications," the authority says.
"All airlines, however, will need to go through the necessary steps to return the aircraft to service, including pilot training, so this may result in flights of the type into the UK not being seen immediately."