While the European Union Aviation Safety Agency is aiming to recertify the Boeing 737 Max within a few days, its UK counterpart has yet to indicate whether it will deviate from the requirements when it issues its own approval.
FlightGlobal understands that the UK Civil Aviation Authority intends to release a separate airworthiness directive after EASA publishes its final version.
The CAA is no longer part of EASA following the UK's full withdrawal from the European Union on 1 January – a controversial decision given its historical ties with EASA's creation and the initial signals that the UK intended to remain an EASA member despite leaving the EU.
With its retreat from EASA's regulatory sphere, the CAA has the ability to demonstrate its independence by drawing up its own amendments to EASA's 737 Max directive.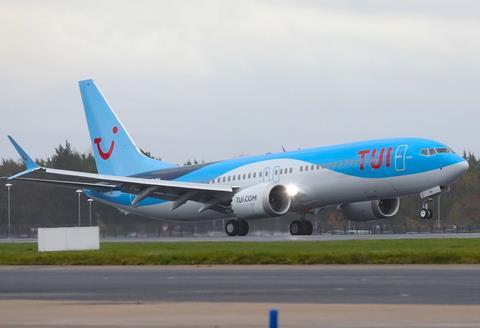 EASA has already chosen to diverge from the original US FAA clearance issued last November, with planned inclusion of changes such as procedures allowing disabling of a nuisance stick-shaker, and a temporary restriction on certain precision approaches. The proposal was open for comment until 22 December, but EASA has yet to indicate whether it has modified the directive in response.
Transport Canada also made its own amendments to the FAA requirements, in its own newly-published airworthiness directive.
Given how closely involved the UK has been with the EASA recertification process over the past two years, any deviation would be unusual – particularly given that EASA's proposed directive was issued while the UK was still in the transition period in its withdrawal process from the EU, and therefore still aligned with EASA.
"As the [CAA] has been fully involved in EASA's work we will base our decision for the UK on this, as well as information from Boeing and the US FAA," says the UK regulator.
FlightGlobal understands that the CAA will release a similar directive shortly after EASA finalises its version. The separate publication will underline the UK regulator's position as an independent authority, even if it contains otherwise-identical content.
The UK-EU trade agreement that took effect at the beginning of January enables each side to accept certificates and findings of compliance by one another's regulators.
But it also states that the agreement does not limit the authority of either side to determine the level of protection it considers necessary to maintain safety.
Only one UK carrier, TUI Airways, is a 737 Max operator although Irish budget carrier Ryanair – which has a large number of Max jets on order – has a UK division to which it could transfer some of its aircraft.
"We're still awaiting official confirmation of the 737 Max's recertification in Europe," says TUI. "We will only fly the aircraft once EASA and the UK CAA have approved it is safe to do so. TUI UK currently has no plans to fly the aircraft this winter."