Ukrainian operators are facing operational disruption over a loss of insurance coverage as a result of the potential risk of armed conflict in the region.
Budget operator SkyUp states that it has stopped selling tickets for flights from 14-16 February because aircraft lessors are "demanding the return" of aircraft to the European Union.
One of its services, a Boeing 737-800 flight from Funchal in Madeira to the Ukrainian capital Kiev, was diverted on 12 February to Chisinau in Moldova.
SkyUp says the aircraft was "forced to land outside of Ukraine" as a result of the leasing company's requirements.
"We managed to arrange a landing in Chisinau and transfer 175 passengers by bus to Kiev," it adds. The distance between the cities is some 400km.
The airline, which operates an all-737 fleet, says it has received similar instructions to return aircraft from other leasing companies.
Chief executive Dmitry Seroukhov says the situation "requires a solution at state level".
"We are doing everything possible to continue operating flights normally, but we cannot ignore the requirements of lessors," he says. "We are working together with government agencies to find solutions to the problem."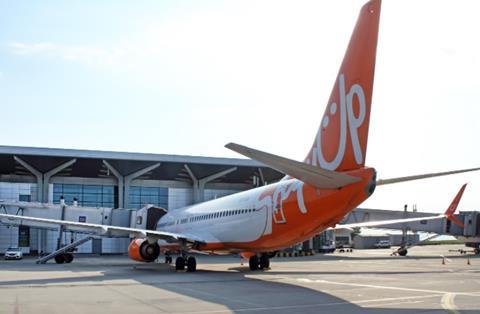 Ukraine's infrastructure ministry insists the government has not made any decision to the country's airspace, and that it remains open for flights.
The ministry says 29 foreign carriers are still operating services to Ukraine.
"Some carriers have difficulties with fluctuations in insurance markets," it acknowledges. "The state is ready to support airlines and plans to provide additional financial guarantees to support the air market.
"Our international partners are being consulted and relevant government decisions are being prepared.
"Insurance markets, as well as capital markets, are vulnerable to the information field. We expect that the situation will stabilise in the near future."
Air navigation service UkSATSE says it has published an official advisory for a "potentially dangerous zone" in airspace over the Black Sea, valid from 14-19 February, and is advising carriers to plan routes accordingly – although it adds that this recommendation is not a prohibition on services over the Black and Azov Sea regions.