Ukrainian investigators have disclosed that the crew of an Antonov An-32A freighter turned off a propeller-control switch before the aircraft was destroyed in a serious runway excursion in Peru.
The aircraft, operated by Colombian carrier AerCaribe, had been arriving at Iquitos from Lima on 14 October.
It touched down 1,225m from the threshold of runway 06, which is about 2,500m in length.
Ukrainian investigation authority NBAAI, which is participating in the probe, says the crew "turned off" a propeller stop switch after landing.
It states that this led the aircraft to make an "uncontrolled" turn to the left, travelling 250m before veering off the left side of the runway, rolling over flat ground before encountering a drainage ditch.
Hitting the ditch caused the right wing, engine and landing-gear assembly to separate and a fire broke out.
Four crew members were treated at a medical facility. No passengers were on board the aircraft.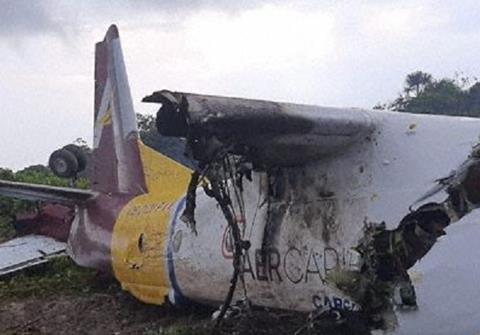 NBAAI has not detailed the function of the switch mentioned, but could refer to the propeller-stop on aircraft including the An-24 and An-26 which is designed to prevent the blades accidentally moving to a reverse-thrust position during flight.
It has not specified whether the operation of the switch was directly connected to the subsequent excursion.
Cirium fleets data lists the aircraft involved, OB-2120-P, as having originally been delivered to the Nicaraguan carrier Aeronica in mid-1988.