Robotic underwater vessels are to be deployed in the recovery operation for a Mil Mi-8T helicopter which crashed into a lake which operating a tour flight in eastern Russia.
The wreckage of the helicopter has been located about 700m from the shore of lake Kuril, on the Kamchatka peninsula.
But regional governor Vladimir Solodov says the Mi-8 has sunk to a depth of 130m.
"Emergency ministry divers cannot work at this depth," he says. "We have therefore turned to the ministry of defence for assistance."
Solodov says the military has underwater robotic vehicles which can examine the lake bed and help the hunt for debris and missing persons following the 12 August accident.
"Investigators are currently establishing possible scenarios and circumstances of the incident," he adds.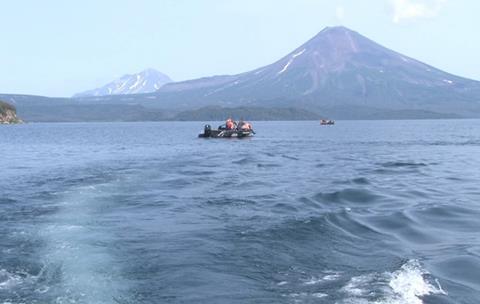 Sixteen occupants, including three crew members, were travelling on the Vityaz-Aero helicopter when it came down during a tourism service.
Vityaz-Aero says it operates a fleet of around 20 Mi-8s and its network includes a technical base at Nikolaevka, just west of Petropavlovsk-Kamchatsky.
It conducts a variety of helicopter operations including passenger transport, outsize freight carriage, transfer of skiers to mountains, and aerial work supporting construction.
While the cause of the accident has yet to be established, Vityaz-Aero states that it employs pilots with "rich flying experience", noting that the Kamchatka peninsula is "one of the most difficult" regions for helicopter operations, characterised by strong winds and low cloud.