Canadian investigators have disclosed that an unmarked tool jammed the landing-gear of De Havilland Dash 8-400 which was undergoing a post-maintenance test flight earlier this month.
The Jazz Aviation aircraft had undergone work to replace a spoiler cable and was carrying out the test flight at Toronto Pearson on 6 September.
Two crew members and two maintenance personnel were the only occupants of the turboprop.
As it conducted its approach to runway 24L, the undercarriage was extended but the crew received an 'unsafe' indication for the left-hand main gear.
Transportation Safety Board of Canada says the pilots aborted the approach and climbed to 5000ft and transmitted an urgency call to air traffic control while following quick-reference handbook procedures.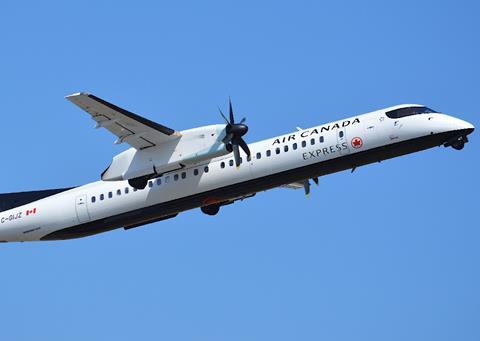 "Despite completing [these] procedures, the unsafe landing-gear indication persisted," it adds, and the crew opted to land – which required shutting down the left-hand Pratt & Whitney Canada PW150 engine.
The aircraft landed safely on runway 15L, and came to a halt on the runway.
Maintenance personnel inspected the aircraft and discovered a tool jammed in the left-hand landing-gear, preventing it from fully extending.
"Subsequent investigation determined that the tool found was an extension magnetic tool, not under the operator's control, and lacking any identification markings," says the safety board.
"The operator conducted research into prior maintenance in the area but found no documented reason for the tool to be located there."
None of the personnel on board was injured. The aircraft involved (C-GJZF) had originally been delivered to Frontier Airlines' Lynx Aviation division in 2008.