Dutch prosecutors have taken into account that Malaysia Airlines flight MH17 might have been unintentionally shot down, mistaken for a military aircraft, but stress that this does not alter the criminal charges directed at the suspects.
In his opening statement to the trial – in absentia – of four suspects indicted over the Boeing 777-200ER's destruction in July 2014, prosecutor Ward Ferdinandusse admitted that it was "perfectly conceivable" that the "true intention" of the defendants was to bring down a Ukrainian armed forces aircraft.
"Several items of evidence point to this scenario, including intercepted conversations the defendants had after the downing occurred," he told the court in The Hague.
"When drawing up the indictment we explicitly took account of this 'error scenario'."
But Ferdinandusse pointed out that the charges concentrate on laws prohibiting action to cause an aircraft to crash "regardless" of the aircraft type and whether resulting fatalities are military personnel or civilians.
Anyone destroying a Royal Netherlands Air Force fighter can be prosecuted under the Dutch criminal code, he said, for the murder of its pilot.
"Offences in the indictment are as applicable to the downing of a military aircraft as to the downing of a civilian aircraft," he stated. "Any error concerning the target makes no difference in respect of the proof that such offences were committed."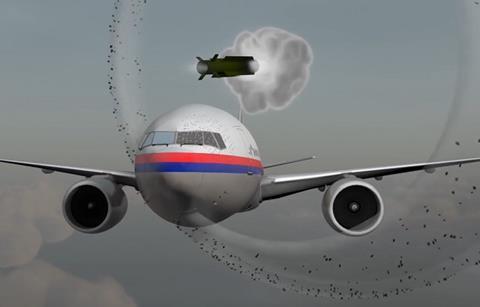 Ferdinandusse also pointed out that, while an armed conflict was taking place in Ukraine at the time MH17 was destroyed by a surface-to-air missile, this does not mean the suspects can claim combatant immunity, because such rules apply only to regular military personnel acting under the authority of a state and in an organisation that respects international humanitarian law – not to independent fighting groups.
"Other people who commit acts of violence in an armed conflict are subject to the ordinary rules laid down in criminal law," he said. "War is not a mandate for violence by all."
The prosecution views the four suspects as having been instrumental in delivering and deploying the Buk mobile missile launcher used against MH17.
"We do not think that these defendants pressed the button that launched the [missile]," said Ferdinandusse.
But he alleges that they played a "significant co-ordinating role" in transporting and positioning the weapon and, following the destruction of the 777, transferring it back to Russia – meaning that they were "so closely involved that they can be held responsible under criminal law for the downing of flight MH17".