US investigators have disclosed that a United Airlines Boeing 767-300ER sustained substantial upper fuselage damage while landing in Houston, after its nose-wheel bounced heavily on the runway.
The twinjet's fuselage crown was wrinkled as a result of the 29 July accident, as the aircraft arrived from Newark.
Preliminary inquiries reveal that the 767 – with the first officer as flying pilot – was following the DOOBI2 arrival pattern for an ILS approach to runway 26L.
The aircraft had executed a stable approach, with normal touchdown on the main landing-gear, according to the crew, says the US National Transportation Safety Board.
Flight-data recorder information found that both main gear initially touched down, but the right-hand gear lifted off as the aircraft rolled to the left.
According to the first officer, he had kept aft pressure on the yoke in order to prevent the nose-wheel from hitting the runway, but that it made runway contact with "abnormal" force.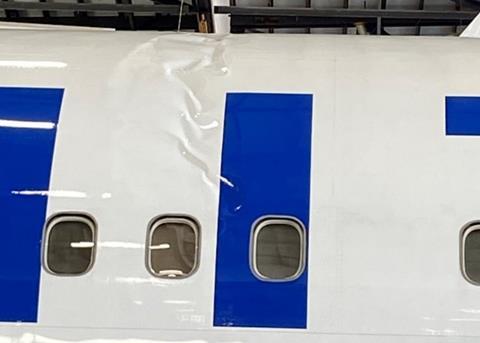 Flight data shows the nose-gear impact was 1.4g, and the nose-wheel bounced. The first officer reacted by pulling the yoke aft, in a bid to stop the nose-wheel hitting the runway again.
But the aircraft's speedbrakes deployed and its auto-brakes engaged, and the nose-wheel bounced for a second time, with a 1.6g impact.
As the first officer commanded reverse thrust, the 767's right-hand reverser activated and the nose-wheel made runway contact again – this time with a 1.6g impact – and then the left-hand reverser deployed.
"The captain assumed control of the airplane and the remainder of the landing roll-out was normal with no risk of runway overrun or excursion," says the inquiry.
None of the 202 occupants of the aircraft, including 193 passengers, was injured.
But examination of the 32-year old 767 revealed that its upper fuselage had sustained substantial wrinkling damage just forward of its Pratt & Whitney PW4000 engines.
Investigation have yet to draw conclusions about the accident, which occurred in daylight and good visibility with 5kt wind from the southwest. The aircraft (N641UA) has been in service with United since it was delivered new to the carrier in 1991.