Nigerian investigators are probing an incident in which an Embraer ERJ-145 suffered a runway excursion during landing at Lagos.
The aircraft, operated by United Nigeria Airlines, was arriving on a domestic service from Abakaliki which lies some 280nm (520km) east of the Nigerian hub.
United Nigeria says the regional jet "skidded off" runway 18L at Murtala Mohammed airport during the 31 May incident.
It has not detailed whether the aircraft – which it identifies as 5N-BWW – sustained damage.
But it states that the jet was "forced to terminate its movement to the apron".
All 50 passengers safely disembarked the aircraft, the airline adds. Weather conditions at Lagos during the day were broadly good, according to meteorological data from the airport.
United Nigeria says it is "fully collaborating" with Investigators following the Lagos event.
"We apologise for any inconvenience caused and want to assure the public that their safety remains our top priority," it adds.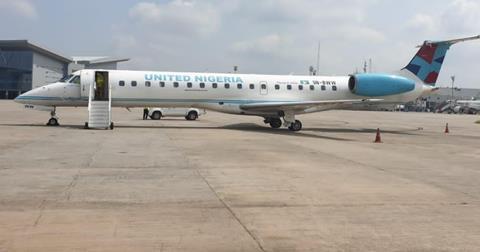 The aircraft was originally delivered to US carrier ExpressJet in 2002.
It was involved in another serious incident, in November 2021, during a United Nigeria service from Abuja to Lagos.
The crew heard a bang as the aircraft climbed after take-off and another as it reached 4,000ft, identifying an engine flame-out, according to Nigeria's accident investigation bureau.
It returned to Abuja safely about 10min after the emergency began.
Investigators found that the flight-data recorder did not capture the event, having last recorded a flight nine months earlier.