Analysis of flight operations data during the downturn in air transport activity has revealed a sharp increase in the proportion of unstable approaches.
The number of unstable approaches per 1,000 operations increased to around 28 in April and 37 in May, two months in which air transport was badly affected by the coronavirus crisis.
This figure had consistently remained at a monthly level of around 10-15 for both 2018 and 2019, and for the first three months of 2020, according to information drawn from IATA's flight data exchange.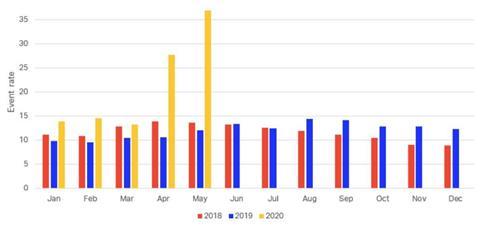 IATA says the data highlights, in particular, low thrust and high airspeed as contributors to the increased rate of incidents.
The association is stressing, in an operational notice, that unstable approaches are a "precursor to high-impact events".
International pilot association IFALPA states that crews should follow standard operating procedures and ensure they comply with stabilised approach criteria – and be fully prepared to execute a go-around if the aircraft deviates from these requirements.
"A stable approach is an essential factor to reduce the likelihood of runway excursions [and] hard landings," it adds.
IATA's notice does not offer any explanation as to why the unstable approach rate has increased during the period of reduced activity caused by the pandemic.
But the situation poses a potential threat of increased occurrences if the rate does not fall back as air services are restored.
Investigators are still probing the fatal landing accident involving a Pakistan International Airlines Airbus A320 at Karachi on 22 May, following an unstable approach.
IFALPA is recommending that operators consult flight-data monitoring programmes to establish whether unstable approach criteria are being breached, and perform a risk assessment if necessary.
"It is important to highlight [to pilots] that the decision to execute a go-around is not, in any way, an indication of poor flight crew performance, but rather prudent decision-making," it states. "There should be a clear non-punitive go-around policy."