Pilots of the Ural Airlines Airbus A320 which made an emergency landing in a field near Novosibirsk had been facing a fuel crisis after the jet experienced hydraulic failure, according to the carrier's chief.
General director Sergei Skuratov, during a 12 September briefing, stated that the aircraft – which was en route from Sochi to Omsk – suffered a failure of its green hydraulic circuit while approaching Omsk.
The runway at Omsk is 2,500m in length but, says Skuratov, the captain felt that a longer runway was needed given that certain systems, such as some spoilers, were unavailable as a result of the hydraulic problem.
As a result the crew diverted to Novosibirsk, some 600km further east, which has a 3,600m runway.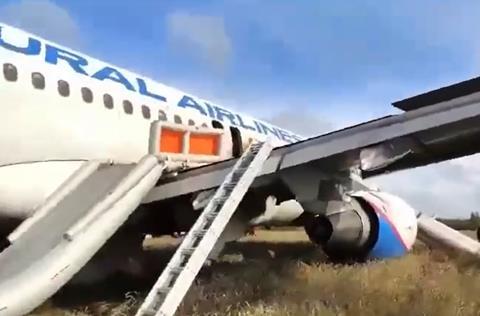 But the A320 experienced a higher fuel-burn owing to its low altitude, strong winds, and the inability to retract the landing-gear doors.
The crew realised the aircraft had insufficient fuel to complete the approach to Novosibirsk, and landed in a field some 180km from the city.
None of those on board was injured. The extent of damage to the aircraft (RA-73805) is still being assessed.