Russian authorities have confirmed that a Ural Airlines Airbus A320 has carried out an emergency landing near a village while operating a Sochi-Omsk service.
The aircraft came down in a field at Kamenka, in the Ubinsky district, some 180km northwest of Novosibirsk, according to the federal air transport regulator Rosaviatsia.
"All passengers on the aircraft were evacuated and are being examined by medical personnel," says the Russian emergency situations ministry. It says there were 159 passengers and six crew members on board, but the precise number has yet to be disclosed.
But the ministry states that there are no injuries among the occupants.
Video captured by the ministry shows the aircraft came to rest on rough ground. Its evacuation slides are deployed.
The images identify the aircraft as being registered RA-73805. It previously carried the Bermudan registration VP-BMW.
Ural Airlines acquired the aircraft – a CFM International CFM56-powered airframe – about a decade ago. It had originally been delivered to Air Arabia in 2004.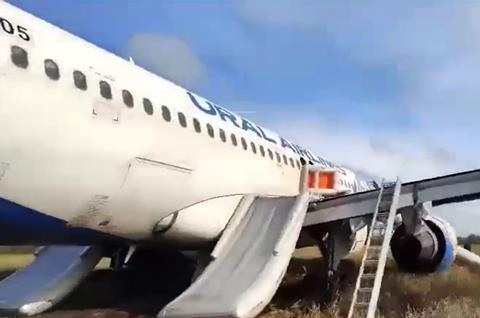 According to the carrier the jet had been operating the U61383 service. It credits the crew with "professionalism and co-ordinated actions", adding that they managed to land successfully in a wheat field.
The emergency situations ministry says six buses were sent to the location, and temporary accommodation set up. It adds that it has placed a Mil Mi-8 helicopter on standby.
Rosaviatsia says the "unscheduled landing" took place at 05:44 Moscow time, which would have been 09:44 in Novosibirsk.
It adds that the landing took place on a site "selected from the air". The authority has not indicated the reason for the emergency landing, nor whether the jet was attempting to divert to an airport.
Rosaviatsia says it deployed an Antonov An-26 with rescuers from Omsk to assist.
One of Ural Airlines' A321s was involved in an emergency landing in a field in August 2019, after the aircraft suffered an apparent bird-strike shortly after take-off from Moscow Zhukovsky. Both CFM56 engines lost power and the crew brought the twinjet (VQ-BOZ) down in a cornfield 10km from the airport.