Russian carrier Ural Airlines appears to be considering flying a stranded Airbus A320 out of the field on which it conducted an emergency landing during an attempted diversion.
The aircraft had been nearing fuel exhaustion as its crew tried to divert to Novosibirsk on 12 September, following a hydraulic system failure on approach to its original destination, Omsk.
All 161 passengers and six crew members survived without injuries.
Ural Airlines says it is looking at "several options" for the aircraft to "take off" from the field.
It says it is waiting for lifting equipment to conduct checks and tests on the A320's landing-gear, and other components, as well as the results of studies on the aircraft's design.
"The plan also includes dismantling the seats, to make the aircraft lighter," it adds.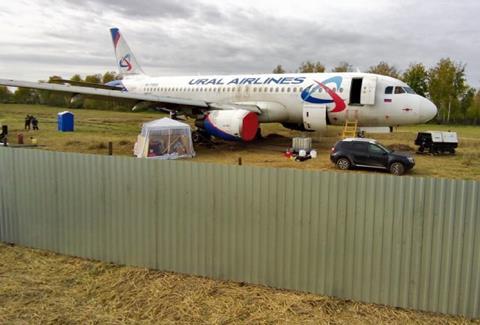 Neither of the CFM International CFM56 engines will require refurbishment work, according to borescope examination.
The engines have been cleared of soil and straw, repeated inspections confirm, says the carrier.
Ural Airlines had already indicated that removal of the aircraft from the field could take several months, and preparation is underway to place the twinjet in temporary storage.
General director Sergei Skuratov says an investigative commission is still probing the event. He has credited the performance of the cabin crew, in particular, for following the procedures set out for emergency landings and directing the successful evacuation.