US authorities are probing a bizarre fatal accident in which a CASA C212 crew member either jumped or fell from the aircraft, before it was involved in a runway excursion upon landing at Raleigh-Durham airport with a landing-gear malfunction.
The twin-engined cargo aircraft touched down on runway 23L at around 14:50 on 29 July, apparently missing its right-hand main wheel. The C212's tricycle undercarriage is non-retractable.
But only one of the two crew members was on board. Emergency services personnel located the body of the second crew member in a residential area of Fuquay-Varina, some 27km south of the airport.
"We had officers that were responding in the area for the search and were flagged down by a resident," says Wake County emergency management operations chief Darshan Patel.
"They had heard something in their backyard, which led to us finding this individual."
Patel, speaking during a briefing, said there was "no indication that the individual had a parachute".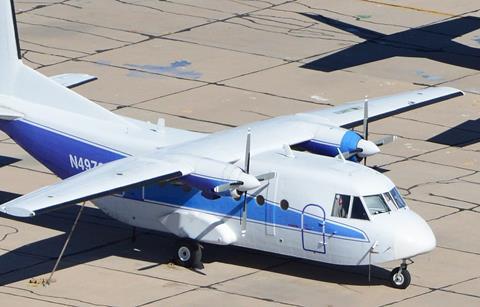 Fuquay-Varina police department states that law enforcement and fire service agencies had been tasked with "locating the co-pilot" who had "exited [the aircraft] while in mid-flight". It adds that, after receiving information from a resident, police were able to "positively identify the co-pilot".
The aircraft had overflown the residential area some 10min before lining up for an initial approach to the runway, performing a fly-by before rejoining the circuit and landing.
Emergency vehicles had been deployed for the touchdown. The aircraft landed on its remaining wheels, before listing to the right and veering off 23L.
NOTAM information from Raleigh-Durham airport states that the runway has been closed until 1 August.
Circumstances of the accident, and whether the landing-gear problem was directly linked to the fatality, have yet to be clarified.
The C212's design includes an aft loading ramp which can be opened in flight for activities such as skydiving.
According to the US FAA the aircraft involved (N497CA) is a 1983 airframe, MSN291, owned by an entity called Spore, located in Colorado Springs, south of Denver.
Fleet data from Cirium lists the C212's operator as Rampart Aviation – co-located with Spore – which specialises in support services including military training using utility aircraft.