Surveillance video footage has emerged appearing to show ground personnel vainly attempting to physically stop a Bombardier Q400 from rolling across an apron in Aberdeen, before the turboprop struck a parked regional jet.
The former Flybe aircraft (G-JECK), apparently not under power and with its forward passenger airstair open, was captured rolling across the intersection of taxiways B and D on 16 June.
It headed south-east towards parking stand 11, at the north end of the terminal building, where a Loganair Embraer ERJ-145 (G-SAJS) was positioned, and the Q400's fuselage crown became wedged under the ERJ's right-hand engine, lifting the jet's main landing-gear off the apron.
The ERJ was unoccpied at the time.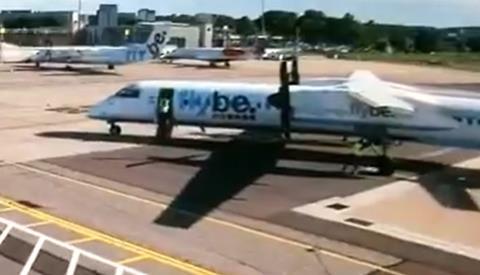 Surveillance video circulating on social media shows the Q400 travelling unpowered across the apron, while attended by at least five ground personnel.
Three of them are seen around the right-hand main landing-gear, while a fourth appears to try stopping the roll by bracing against the left-hand main gear.
A fifth, who was inside the aircraft, jumps from the airstair and briefly attempts to take over from the person pushing against the left gear assembly, before running instead to the front of the aircraft to join a worker from the right-hand side in trying to push against the nose.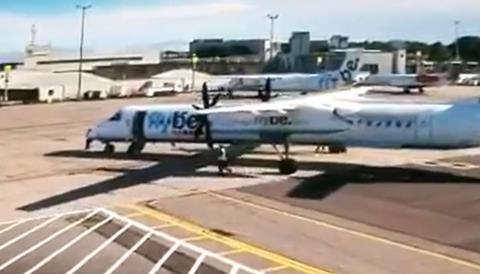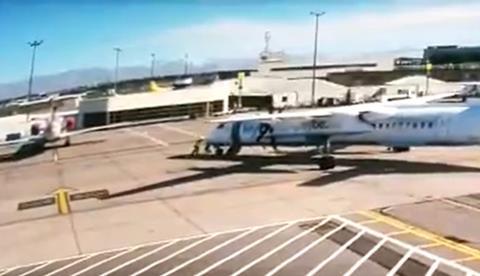 None of the efforts succeed and all the ground staff quickly move clear of the aircraft as the collision becomes inevitable.
No-one was injured during the event. The Air Accidents Investigation Branch was subsequently informed.
The reasons for the Q400's movement have yet to be determined. Meteorological data for Aberdeen around the time of the accident indicate winds from the south-east, against the aircraft's direction of travel.
Regional carrier Flybe collapsed in early March. The Q400 involved, according to Cirium fleets data, belongs to lessor Nordic Aviation Capital. The Loganair ERJ was originally delivered to BMI in 2001.