UK long-haul carrier Virgin Atlantic has been fined over $1 million by US regulators for operating several flights in restricted Iraqi airspace which were carrying the codeshare of its US partner Delta Air Lines.
While operating services between the UK and India, the airline flew within the Baghdad flight information region which had been declared entirely off-limits to US carriers under a NOTAM issued by the US FAA in March 2020.
Over the course of a year – between 16 September 2020 and 16 September 2021 – the carrier operated a "significant number" of flights within the restricted area, according to an investigation by the Department of Transportation's Office of Aviation Consumer Protection.
Virgin Atlantic operated the services "in violation" of conditions attached to its Delta codeshare authorisation.
Baghdad FIR had been declared a restricted airspace at all altitudes owing to increased militia activities, which presented a potential risk to civil air traffic through "miscalculation or misidentification", the NOTAM stated.
This NOTAM was not rescinded until 22 October 2021. Restrictions still remain in effect prohibiting US civil aviation operations in the airspace below 32,000ft.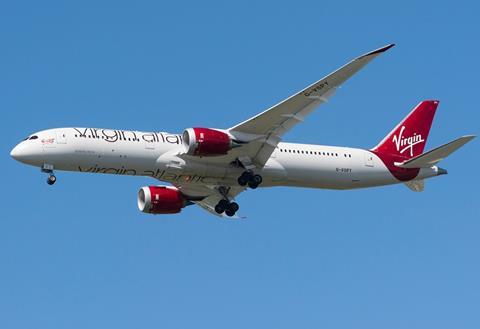 Virgin Atlantic told the investigation that it takes seriously its responsibility to comply with operating conditions, and claimed its overflights of Iraq were "inadvertent" and caused by "operational disruptions" and "loss of personnel" as a result of the pandemic affecting the air transport industry.
According to the airline the flightpaths in question were "permissible under foreign government standards", and insists it "immediately" re-routed the flights to avoid Baghdad airspace after receiving notification from US regulators.
"[Virgin Atlantic] conducted a robust internal review of its global network and established new internal processes and work groups, which included co-ordination with its codeshare partner and the FAA," says the Department of Transportation.
It adds that the airline invested in an automated system – known as Sentinel, from Osprey Flight Solutions – to monitor compliance for all its planned flights.
Virgin admitted responsibility for the inadvertent failure to abide by the US regulation, but sought a limited penalty given that the airline suffered financially from the pandemic, and had to be recapitalised. The Department of Transportation says the carrier has agreed to a "compromise settlement" – including the fine of $1.05 million – to avoid litigation.
"The compromise assessment is appropriate considering the nature and extent of the violations," the department adds. "It establishes a strong deterrent against future similar unlawful practices by Virgin Atlantic and other carriers."
Virgin Atlantic insists the safety and security of its aircraft, passengers and crew was "never compromised at any point" and remain its "highest priority".
"We have thoroughly reviewed and strengthened our systems and processes," the airline adds, following the settlement. It reiterates that overflight restrictions involving "multiple" authorities can be "complex and dynamic" and that international standards can vary – although it acknowledges that US regulators did forbid services codeshared with US carriers from operating over Iraq.