Russian helicopter operator Vityaz-Aero has been temporarily barred from transporting passengers following the fatal Mil Mi-8T accident at lake Kuril on the Kamchatka peninsula.
At least eight of the 16 occupants survived the accident. Several fatalities have been confirmed after the Russian emergency services ministry – using a deep-sea vessel – located the fuselage of the helicopter about 500m from shore, at a depth of 110m. Three casualties have been recovered.
Vityaz-Aero executive director Dmitry Chernykh says the helicopter underwent overhaul last year and had since flown 430h. Scheduled maintenance was conducted in July 2021.
"Specialists from different plants arrive, fully inspect the aircraft and, if necessary, indicate which mechanisms should be replaced or repaired," says Chernykh. "All instructions of these specialists are carried out without fail, either by the employees of the aviation company or by representatives of the factories where the equipment was manufactured.
"These employees are then authorised to give an opinion on the aircraft's airworthiness."
The helicopter involved, RA-24744, was cleared for the Kuril lake flight after an inspection, he adds. Vityaz-Aero has 23 helicopters and all are in "good working order", insists Chernykh.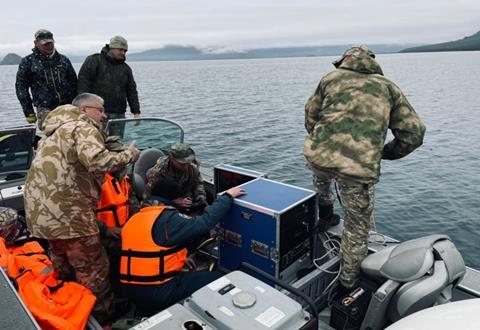 Federal air transport regulator Rosaviatsia says it has "introduced restrictions" on commercial passenger transport to the carrier's operating certificate.
It is still permitted to conduct cargo transport and other aerial work, including medical services.
Russia's Interstate Aviation Committee has investigated three other serious accidents involving Vityaz-Aero Mi-8T helicopters, one of which was fatal, over the past six years.
Inquiries into a collision with the Uksichan volcano in central Kamchatka in April 2015 found that the crew had lost situational awareness in poor weather conditions, unsuitable for visual flight, and not maintained a safe altitude while flying in mountainous terrain.
The inquiry cited the crew's "failure to make a timely decision" to divert to an alternate airport. While the helicopter (RA-22919) was destroyed in the collision, all six occupants survived.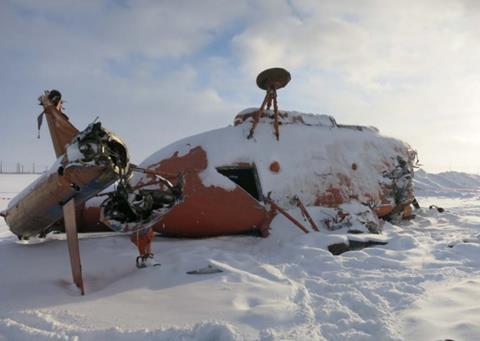 Eight months later another Mi-8T (RA-24402) was destroyed after its crew lost spatial orientation while attempting to take off from a location south-east of Krutogorovo. The crew's take-off technique, in an area of freshly-fallen snow, generated a "whirlwind" of snow, after which the helicopter pitched down and struck the ground about 250m from its take-off point, injuring 11 of the 25 occupants, one of them fatally.
Investigators are also still probing an Mi-8T accident on the Mutnovsky volcano, in southern Kamchatka, during a tourism operation in April 2017.
The helicopter was carrying out a shuttle service, ferrying skiers and snowboarders up the mountain slopes. It took off from a base at 1,250m altitude with 20 passengers and three crew members, heading for the eastern slope, but collided with the terrain at 2,150m and came to rest on its right side.
Three passengers were seriously injured. The Interstate Aviation Committee has yet to publish findings into the accident.