Colombian investigators have disclosed that an Airbus A320neo landed with less than 300kg of fuel on board following two diversions on a service from Cali.
The aircraft, operated by Viva Air, had departed Cali for the northern city of Riohacha on 17 October.
This sector is some 530nm in length and typically covered in 1h 20min.
But owing to poor weather at the destination, the aircraft diverted instead to Medellin, which lies some 350nm from Riohacha, meaning the jet travelled some two-thirds of the way back to Cali.
Upon arriving in Medellin terminal airspace, the crew heard over the radio that other aircraft were executing missed approaches to the airport as a result of the meteorological conditions, according to French investigation authority BEA, citing Colombian counterparts.
After carrying out "a couple of circuits in holding", says BEA, the crew decided to divert again, this time to Monteria's Los Garzones airport about 150nm north.
While en route to Los Garzones, the crew declared a fuel emergency. The aircraft landed nearly 30min after the emergency call.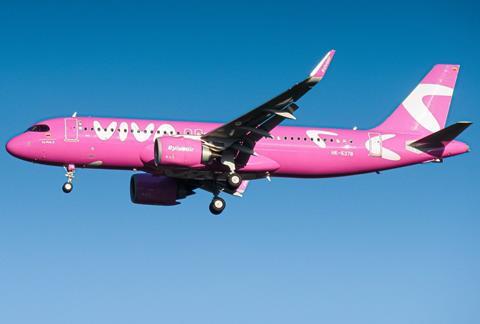 BEA says preliminary information from the Colombian inquiry indicates the A320neo landed with 282kg of fuel, with 236kg remaining once the engines were shut down.
It was airborne for some 3h 20min following departure from Cali.
The aircraft (HK-5378) is a CFM International Leap-1A-powered jet, delivered to the carrier new just a little over a year ago, in September 2021.
Colombian investigators have described the incident as "serious". The airline has stressed that flight safety is a priority.