One of Russian outsize freight operator Volga-Dnepr Airlines' Antonov An-124s has suffered substantial damage after a departure accident apparently involving engine failure.
Images of the aircraft (RA-82042) at Novosibirsk show it came to rest on rough snowy ground, on its fuselage underside, with extensive damage to its inboard left-hand Progress D-18 engine. The entire forward section of the engine has separated, with apparent damage to both sides of the aircraft's fuselage as well as the left wing leading edge.
The aircraft, an An-124-100, had attempted to depart at 12:08 on 13 November.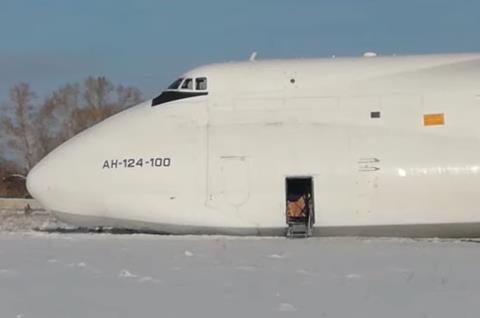 Russia's federal Investigative Committee says the aircraft had been bound for Vienna, but made an "emergency landing" at the airport within 2min.
"While landing, the aircraft rolled off the runway," it adds. None of the 14 crew members was injured.
Full circumstances of the accident have yet to become clear. Meteorological information from Novosibirsk airport shows good visibility and no adverse weather conditions at the time.
Volga-Dnepr says the aircraft had been operating to Vienna from Seoul with 84t of automotive parts on board.
"After the emergency landing, all the crew members were sent for a medical examination," says general director Igor Aksyonov. "Most importantly, none of them was hurt.
"We are working with the aviation authorities and Novosibirsk airport about the incident and will conduct a thorough analysis of the situation."
Video images purportedly from Novosibirsk tower, circulating on social media, indicate the aircraft returned to land on runway 25. It failed to stop and overran the end by around 300m.
The freighter was manufactured in 1991 and originally delivered to Volga-Dnepr, subsequently becoming part of the fleet of its joint venture with HeavyLift.
Volga-Dnepr retained the aircraft after the joint venture ended.
While the cause of the engine disintegration has yet to be established, the Ukrainian state aviation administration in March ordered inspections of D-18T second-stage intermediate-pressure compressor discs.
The order followed an "uncontained" engine failure on an An-124-100, the administration stated, although it did not give details of the event.
Operators of An-124s were told to inspect the engines within six months of the directive, to check for any cracks in the disc.