Russian outsize freight carrier Volga-Dnepr Airlines has temporarily withdrawn its Antonov An-124 freighter fleet from service, pending clarification of the circumstances of an accident in Novosibirsk.
The operator has about a dozen of the type, including the modernised An-124-100M-150 variant.
Volga-Dnepr says it is "doing everything possible" to meet contractual obligations and restore the An-124 fleet to operation. The airline's outsize freighter capabilities include the Ilyushin Il-76.
One of its An-124-100s suffered an uncontained engine failure shortly after take-off from Novosibirsk on 13 November, leading not only to a reduction in thrust but the loss of some control systems.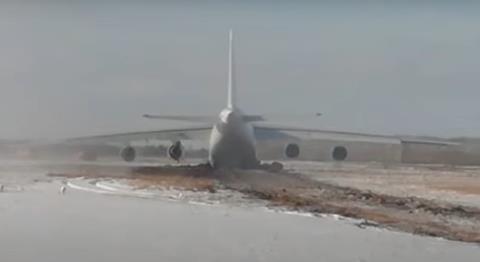 The crew managed to prevent an accident, says the carrier, even though the aircraft – heavily-laden with fuel and an 84t cargo payload – overran the runway after returning to the airport.
An-124s are powered by four Progress D-18T engines. The inboard left-hand engine of the aircraft involved had apparently shed its fan hub and inflicted substantial damage to the fuselage.
Volga-Dnepr says it is imposing a "temporary suspension" of freighter services with the type until reasons for the accident have been identified.
It is participating in a commission established by federal air transport regulator Rosaviatsia which is looking into the event.