Russian investigators have confirmed that the head of private military organisation Wagner Group, Yevgeny Prigozhin, as well as several associates, are among the casualties of a fatal Embraer Legacy crash northwest of Moscow.
The federal Investigative Committee states that "molecular genetic examinations" on 10 individuals recovered from the wreckage, following the crash on 23 August, have been completed.
"According to their results, the identities of all 10 casualties was established," it says. "They correspond to the list given in the flight [manifest]."
Russian federal air transport regulator Rosaviatsia had published a list naming seven passengers and three crew members from the Legacy 600 which came down in the Tver region while en route from Moscow to St Petersburg.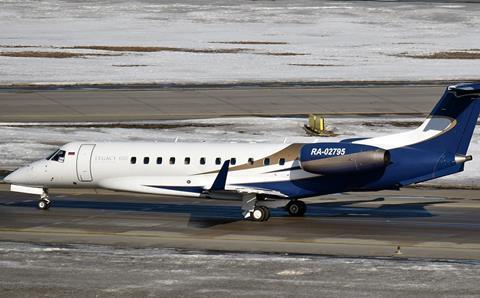 Along with Prigozhin – who had led Wagner Group in a rebellion against the Russian government in June, in relation to the Ukrainian conflict – the list included Wagner's Dmitry Utkin and others close to the organisation.
The results of the testing have not been independently confirmed outside of Russia, and the cause of the crash – including the strongly-suspected possibility of sabotage – has yet to be formally determined.
While Embraer, as the manufacturer, would be considered an interested party to the inquiry, the airframer has not indicated that it has been invited to participate, and not confirmed whether it has offered assistance.
Embraer says it "does not have further information" about the occurrence, stating only that it had previously suspended the aircraft's support service and "continues to comply with international sanctions imposed on Russia".