French investigators believe the pilot of a vintage Beech 18S lost control during a take-off in tailwinds, exacerbated by wake turbulence from a formation of other aircraft departing the same runway.
The Beech, built in 1958, was participating in the Air Legends air show at Melun on 11 September last year.
It suffered a wing-strike and runway excursion during which part its landing-gear broke away, and the twin-engined aircraft came to rest 115m from the runway and just 40m from an area reserved for spectators.
The Beech was taking off from runway 01 behind a formation of seven North American T-6 trainers, part of a display which also included a Consolidated PBY Catalina that had already departed from the longer runway 28.
Winds from the south-west meant the Beech – which lined up 20s after the last T-6 took off – began its take-off run with a tailwind component of 7-8kt.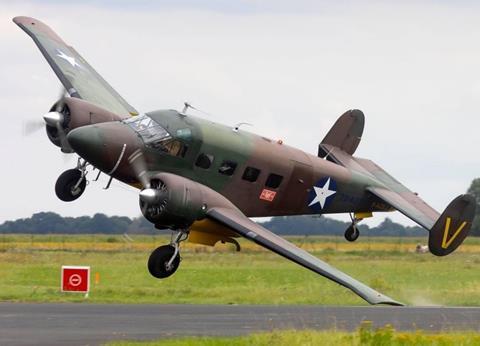 French investigation authority BEA says the aircraft has a reputation for being "tricky" to handle in such conditions, but adds that the Beech pilot might have been deterred from using runway 28 in order to avoid complicating the display after the T-6 formation opted to use runway 01.
It says the pilot had considered the potential cumulative disturbance from the T-6s' wake but "probably underestimated" the combination of this effect with the tailwind.
As the Beech's tail-wheel lifted, the aircraft began deflecting to the left, then the right. The right-hand main wheel rolled onto the grass as the pilot attempted to compensate.
Analysis of the accident sequence shows the aircraft immediately rolled sharply to the left as it became airborne, and the left wing-tip struck the runway.
BEA suggests the wake and tailwind "could have taken the pilot by surprise" during rotation and caused the aircraft to destabilise. The crew also included a safety pilot, who aborted the take-off. This led to the excursion off the left side of the runway but limited the consequences of the loss of control.
While the aircraft was badly damaged by the accident, the crew sustained only minor injuries.