French investigators believe the specific circumstances of a strong crosswind during a windshear-escape manoeuvre can undermine the safety case for simultaneous operations on closely-spaced parallel runways.
Investigation authority BEA has turned up three similar incidents – two at Paris Charles de Gaulle and one at Toulouse – in the space of just over three years, during which short-term conflict alerts were triggered by an aircraft executing a missed approach, in strong crosswinds or windshear, while a parallel flight departed.
These incidents were traced during the BEA's inquiry into another such event, also at Charles de Gaulle, which occurred within the same time period. The October 2020 incident resulted in a Hop Embraer 170, which was conducting a go-around, drifting into the flightpath of a Brussels Airlines Airbus A320.
Part of the reason for the conflict was the Embraer crew's continuing to follow a wings-level windshear procedure to a fixed altitude, far beyond the point where the windshear warning had ceased.
This prevented the crew from following an alternative flightpath which could have provided sufficient separation from the A320.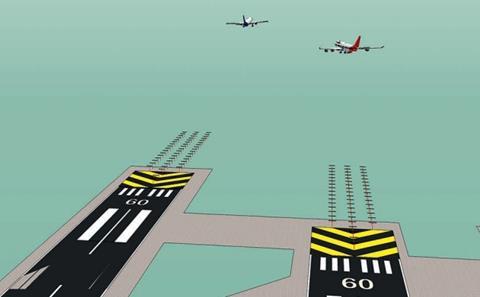 BEA points out that Charles de Gaulle's southern parallel runways, 26L and 26R, are spaced 384m apart, less than the minimum set out in French air traffic regulations for specialised simultaneous operations.
Such closely-spaced runways can nevertheless be used simultaneously if the air traffic services authority approves a safety study taking the runway geometry and operational control into account.
BEA says, however, that it has "no knowledge" of any study for Charles de Gaulle which examined the combined risk of a windshear go-around during strong crosswinds.
It adds that arguments which the French air navigation service used to demonstrate sufficient safety levels – through an alternative means of compliance – to the French civil aviation regulator last year are "undermined" by the specific 'windshear during go-around' scenario.
If the aircraft deviates from its track while flying a wings-level windshear escape manoeuvre, says BEA, it could result in a loss of separation with aircraft departing the parallel runway.
"This situation may become critical when runway spacing is below the standards prescribed by ICAO and the European regulation," it adds.
While it acknowledges such incidents are rare, BEA is recommending that the French air navigation service revises its demonstration of safety compliance to take account of the observations highlighted by the Hop incident.
Since the incident, Hop has revised its windshear procedure, so that it no longer focuses exclusively on height thresholds but rather the presence of windshear, aligning it more closely with Embraer's own standard.