Russian investigators are probing a landing accident which damaged the wing-tip of an Antonov An-24 at Ust-Kut airport in Siberia.
The turboprop was being operated by Angara Airlines on a 17 August service, according to the federal Investigative Committee's eastern inter-regional transport investigation division.
It states that the aircraft "contacted the ground with its left wing" while landing at around 10:00.
Circumstances of the event are unclear. No meteorological data is available from the airport.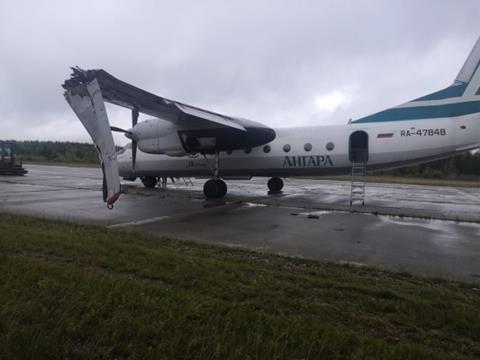 But the An-24 is a high-wing transport and the strike – sufficient to fracture a substantial portion of the outer wing – suggests a significant bank.
No-one was injured, says the Investigative Committee, which identifies the aircraft as RA-47848 – a 50-year old airframe originally delivered to Aeroflot in 1972.
"Investigators are conducting a set of verification measures aimed at establishing all the circumstances and causes of the incident," it adds.
Russia's Interstate Aviation Committee says 44 passengers and four crew members were on board the aircraft.