Budget carrier Wizz Air is insisting that is not jeopardising safety, in response to a video recording of chief executive Jozsef Varadi apparently urging personnel to reduce disruption arising from calling in fatigued.
While the European Cockpit Association, which has obtained the video recording, is claiming that Varadi was effectively encouraging pilots to fly while fatigued, the airline chief does not actually mention pilots specifically in the short excerpt.
"I understand that fatigue is a potential outcome of the issues," he remarks, in reference to the difficulties of staff availability which the broader aviation industry is experiencing.
"But once we are starting stabilising the rosters, we also need to take down the fatigue rate."
Varadi says Wizz Air "cannot run this business when every fifth person of a base reports sickness because the person is fatigued".
Although he does not clarify whether he is speaking about aircrew or ground personnel, he does mention the "huge" damage, including compensation, when flights have to be cancelled.
"We are all fatigued," he says. "But sometimes it is required to take the extra mile."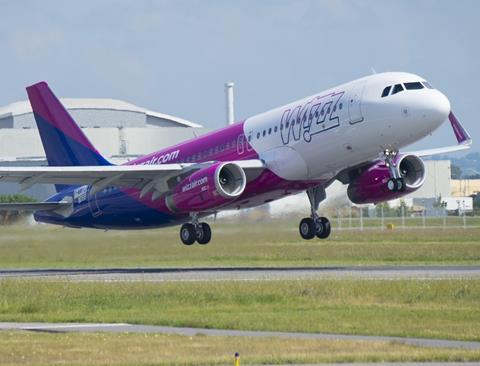 Wizz Air states that the clip has been "edited" from a staff briefing attended not only by pilots, but cabin crew and office employees.
It says staff availability and welfare are among supply-chain issues affecting all airlines, but adds that its own crew unavailability level is "very low" at around 4%.
"In this context, going the extra mile to minimise disruption was discussed," says the carrier. "What this does not mean is compromising safety.
"Wizz Air and the airline industry are highly regulated, and safety has, and always will be, our first priority."
The carrier says it has a "robust and responsible" crew-management system which "meets the needs of our people" as well as allowing the airline to serve "as many customers as possible" in the current situation.
Wizz Air has recently been having to defend its reputation from pilot representatives, including the European Cockpit Association, after being accused of poor labour practices and an anti-union stance.
The airline, in particular, has faced accusations from US aircrew labour groups after it sought to open services to the USA with a single Airbus freighter, which it operates on behalf of the Hungarian government.
In response to the European Cockpit Associations objections, the European Commission and European Union Aviation Safety Agency informed the US Department of Transportation, in March this year, of their activities relating to Wizz Air's safety oversight.
EASA became the competent authority of Wizz Air in August 2020, taking over the role from the Hungarian civil aviation regulator.
It points out in the submission that aspects relating to labour arrangements between the airline and its employees are outside of EASA's mandate and scope, but it does have a process – free of conflicts of interest – to handle confidential safety reports from individuals.
EASA says that, since taking over as the competent authority for Wizz, it has received "several" such safety reports – either through the confidential reporting channel or emails from unions.
"All have been investigated…and all have led to particular actions conducted by EASA in the different domains specified in the reports received," it says.
"Regarding the specific case of reports related to Wizz Air's 'social climate', although EASA is not in charge of social aspects, they have all been taken seriously due to the perceived potential for affecting the safety culture of the operator if not addressed."
EASA says it has carried out investigation and verification work, including interviews with random pilots, cabin crew members, and other staff.
"No significant safety concerns were detected during all these activities," says the authority in its submission.
It insists it has found no evidence to substantiate European Cockpit Association accusations about EASA's ability to exercise effective oversight at Wizz, including alleged safety implications arising from social matters within the carrier.