Hydrogen-electric propulsion specialist ZeroAvia believes its ambitions to develop larger commercial aircraft will not be adversely affected, as it probes the accident which badly damaged its single-engined test airframe.
The six-seat modified Piper M350 was wrecked as it landed in a field near the UK's Cranfield airport on 29 April, during a test flight under its HyFlyer demonstration programme.
ZeroAvia acknowledges the immediate interruption to its activities, saying the accident and the investigation will "undoubtedly disrupt" the HyFlyer-1 schedule. The programme was supposed to draw to a close over the next few weeks.
But it adds that it does not expect "any negative impact" on its follow-up HyFlyer-2 initiative which will explore 10- to 20-seat aircraft. Nor does it foresee any effects on its ambitions to develop larger engines for aircraft of 50 seats.
The M350 had been conducting the sixth flight in a test phase – a sortie designated 'Test 86' – and was performing a "routine pattern" before the accident, says ZeroAvia, conforming to the approved test route.
It has not disclosed any details of the triggering circumstances of the event, but says the structural integrity of ZeroAvia's systems was "maintained throughout the incident sequence".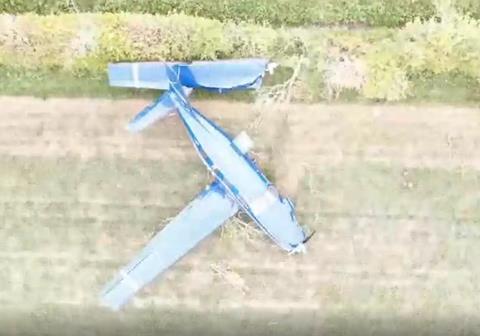 ZeroAvia states that the situation resulted in the aircraft's landing "normally on its wheels" in a flat grass field outside of the airport.
"[The aircraft] almost came to a stop, but was damaged as it caught the left main gear and wing in the uneven terrain at the end of the field at low speed," it says. "Everybody involved is safe and without injury."
But the aircraft suffered substantial damage, its left wing being torn off and the fuselage suffering deformation. The UK Air Accidents Investigation Branch has opened a probe.
"There were no unintended hydrogen or electrical releases and no fire," stresses ZeroAvia. "After the landing the crew were able to safeguard the battery and safely release hydrogen from the on-board tanks, following ZeroAvia safety protocol.
"No fluid leaks were observed at the time and full data logs were preserved and will be used in our investigation".
ZeroAvia head of airworthiness Dominic Cheater will lead an internal probe into the accident, part of a team which is independent from the design and operation of HyFlyer-1.
"The investigation team will deliver a full review of the incident in collaboration with the [Air Accidents Investigation Branch], in line with industry best practices and procedures," it adds.
"It will investigate the technical and operational events of the incident, identify its root causes, and ensure we learn from them."