Embraer, Rolls-Royce and Wideroe have unveiled plans for a 12-month study for a conceptual zero-emission regional aircraft seeking to understand the propulsion and operational options for such types.
The study is an extension of work Wideroe is undertaking with both manufacturers and brings all three together. "This is an exciting project which will shape our thinking on solutions for net-zero regional operation," says Rolls-Royce president civil aerospace Chris Cholerton. "We have an excellent working relationship with both Embraer and Wideroe and look forward to deepening our collaboration."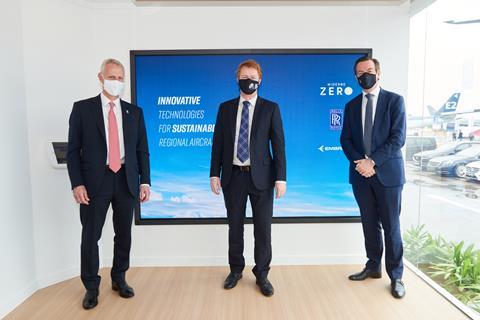 Wideroe and Rolls-Royce have collaborated on zero-emission aircraft since 2019 to develop an electric aircraft that can meet Norway's zero emissions target for 2030 and replace the airline's fleet of fossil-fuel powered aircraft. In November, the carrier announced it was working with Embraer's urban air mobility spin-out Eve to work on the potential operation of electric vertical take-off and landing (eVTOL) aircraft in Scandinavia.
The study will cover a wide range of applications for new propulsion technologies to examine a range of potential solutions – including all-electric, hydrogen fuel cell or hydrogen fueled gas turbine powered aircraft, say the partners.
"Working with the world's leading aerospace technology firms, our aim is to understand how viable business can be built around zero emissions regional concepts, and to advise the manufacturers on operational requirements and customer expectations to design the best possible and sustainable air mobility service," says Andreas Aks, chief executive of Wideroe Zero, the air mobility business incubator division of the Norwegian airline.
Embraer Commercial Aviation president Arjan Meijer says: "The aim of our collaboration is to create new flight solutions that serve expanded market segments in a sustainable manner."
The partners say the 12-month co-operation study will address passenger requirements to "stay connected in a post Covid-19 world, but do so sustainably", and seeks to accelerate the knowledge of the technologies necessary for this transition. "Such technologies will allow national governments to continue to support passenger mobility while reusing most of the existing infrastructure in a more sustainable way," the partners note.