Territorial water disputes, pirates, submarines lurking beneath the surface – there are plenty of reasons why Southeast Asian countries are in the market for maritime patrol aircraft (MPA).
Seeing opportunities, manufacturers at the Singapore air show are pitching several different maritime patrol concepts. Given the tight spaces and littoral waters of the region, these companies are selling smaller aircraft compared with Boeing's 737NG-based P-8A Poseidon.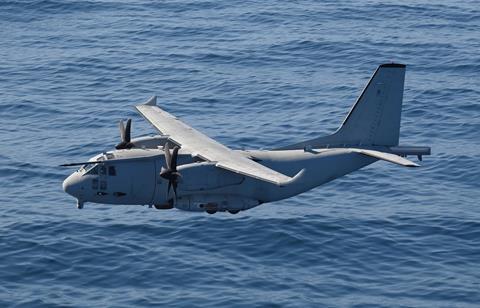 For example, Leonardo is pitching two turboprop aircraft: the ATR 72MP and the C-27J Next Generation ISR-MPA-ASW. The company sees potential customers in Australia, Malaysia, New Zealand, the Philippines and Thailand, among others.
"Together with the Mediterranean Sea, [Southeast Asia] is probably the most congested area," says Giovanni Timossi, Leonardo's marketing manager for Asia and Oceania. Keeping an eye on the South China Sea and the Strait of Malacca are particularly of interest to nearby militaries, he says.
Based the ATR 72-600 turboprop regional airliner, the ATR 72MP benefits from greater crew "comfort", as well as the lower lifecycle cost associated with commercial aircraft, says Timossi. It comes with the Leonardo Seaspray 7300E active electronically scanned array (AESA) radar and an electro-optical sensor turret for searching for surface targets.
Leonardo has designed the C-27J Next Generation ISR-MPA-ASW so that the crew stations sit atop a roll-on/roll-off pallet, allowing rapid reconfiguration of the aircraft. It can also be equipped with an AESA radar and electro-optical and infrared camera system. For submarine hunting, the aircraft can carry a magnetic anomaly detector system and sonobuoy launchers.
Israel Aerospace Industries is also pitching a commercial aircraft that has been turned into a maritime patrol aircraft, the ELI-3360 MPA, which is based on the Bombardier Global 6500 business jet. The company notes that the platform carries over commercial aircraft efficiencies, which translate into cost savings.