After the US Army adopted the Spike non-line-of-sight (NLOS) missile as an interim long-range weapon for its Boeing AH-64 Apache attack helicopter, manufacturer Rafael believes more export orders could come.
The Israeli company has partnered with Lockheed Martin to manufacture the missile in the USA and is pitching the weapon for the US Army's longer-term programme of record, the Long-Range Precision Munition. Rafael hopes to sell the Spike NLOS through the US government's Foreign Military Sales process.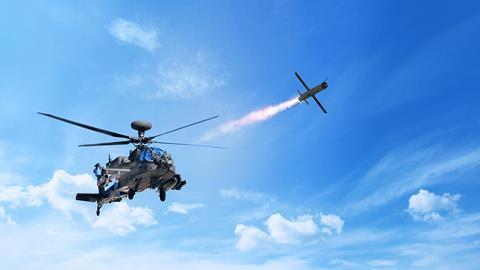 "Every country that has the Apache helicopter I believe will adopt the Spike NLOS," says Ran Gozali, executive vice-president of Rafael's land and naval division at the Singapore Airshow.
Operators of the AH-64 in Asia include India, Indonesia, Japan, Singapore and South Korea.
The Spike NLOS is controlled using an electro-optical and infrared camera seeker and a wireless datalink. Rafael says that makes the missile impervious to electronic warfare interference, such as GPS jamming.
Gozali declines to talk about specific country interest, but notes that the 21.6nm (40km) range of the Spike NLOS when launched from an Apache, as well as its multipurpose warhead – effective against tanks, bunkers and ships – makes the weapon appealing to a variety of countries in the Asia-Pacific. That versatility makes the weapon effective at land warfare, as well as defending against shore assaults, he says.