Airbus is targeting revenue of $10 billion from the aviation services market within a decade as it looks to make up for its late entry into the sector.
Speaking at the Singapore air show, Remi Maillard, senior vice-president for Airbus services, said the manufacturer is forecasting that the commercial services business will be worth $4.9 trillion over the next 20 years, of which a third - $1.8 trillion - will come from the Asia-Pacific region.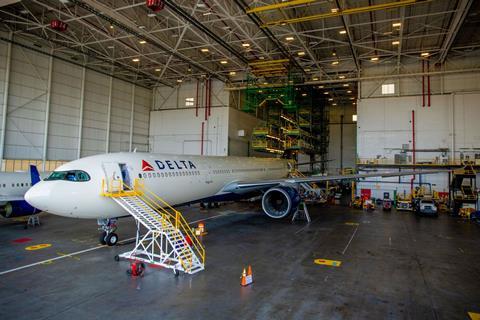 He says Airbus is aiming for significant growth in the sector and concedes that it had historically not been prioritising its services business.
"In Airbus we started late in the services market. We started a few years ago and we've grown with 15-18% for the last years," he says.
"In 2018, [our services business] was $3.5 billion, out of a global market of $150 billion," Maillard says. "Our mission is to deliver $10 billion services revenue in the next decade. And we are well on track to reach this."
He adds that the expansion will be achieved through organic growth "but we might also be looking at some partnerships or some M&A [mergers and acquisitions] on the way."
Maillard says that Airbus's ambitions in the sector will see it extending in to non-Airbus types and customers.
"We are already providing services on non-airbus platforms. A large share of our parts-distribution subsidiary Satair is going to non-Airbus platforms. The Navblue flight-operations software subsidiary is working with a lot of non-Airbus customers," he says.
"And we want to do that more in the future."
Airbus will use its new digital alliance with Delta Air Lines to drive its business beyond its own platforms, says Maillard. "We will share the data and our connective capabilities, and this will apply to both the Airbus and non-Airbus fleet."
He adds that the strategy could "definitely" extend to other services markets, such as training.