Boeing Australia has completed the major fuselage structure for the first Airpower Teaming System unmanned air vehicle (UAV) ahead a planned first flight later this year.
A total of three prototypes are planned, in partnership with the Royal Australian Air Force (RAAF), as a part of their joint Loyal Wingman Advanced Development programme.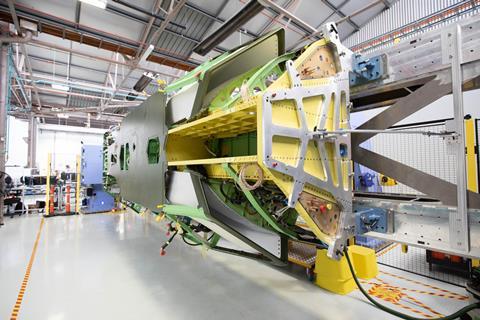 "This is an exciting milestone for the development programme, and the Australian aerospace industry, as we progress with production of the first military aircraft to be developed in Australia in more than 50 years," says Shane Arnott, programme director of the Boeing Airpower Teaming System.
The 11.7m (38ft)-long aircraft was designed using advanced digital engineering tools and built with composite materials, says Boeing. That approach has helped keep the aircraft on budget, the company says.
The Airpower Teaming System is designed to fly itself using artificial intelligence, offering "fighter-like performance", and a 2,000nm (3,700km) range. It could be teamed with manned combat aircraft, such as the RAAF's Boeing F/A-18F Super Hornets.
Boeing is working on upgrades to the F/A-18E/F Super Hornet, as well as the derivative EA-18G Growler, to enable those aircraft to control and fight alongside loyal wingman UAVs.
As part of its partnership with Canberra, Boeing has contracted work on the Airpower Teaming System to 16 Australian firms.
BAE Systems Australia is providing flight control computers and navigation equipment; RUAG Australia is suppliying the landing gear; Ferra Engineering is handling machined components and sub-assemblies; AME Systems is providing wiring looms.
Other loyal wingman UAVs, such as the Kratos Defense XQ-58A Valkyrie, have been developed firstly for the US Department of Defense, with international customers as a secondary consideration. However, Boeing says it is developing the Airpower Teaming System for the global market.