Boeing is pitching its T-7 to Asian militaries for the first time at the Singapore air show, as it seeks a first export deal for the advanced jet trainer.
The airframer is on contract to build as many as 351 examples for the US Air Force (USAF), with the first aircraft scheduled for delivery in 2023. The USAF variant of the trainer is called the T-7A Red Hawk.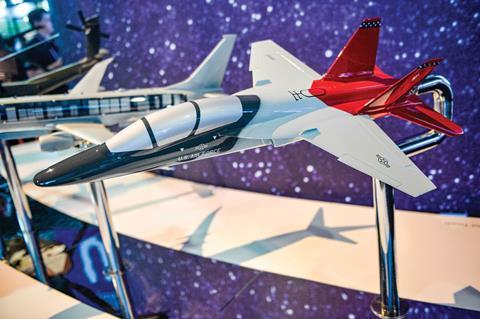 Boeing plans to produce as many as 48 aircraft per year for the service, but says it has the capacity to expand its annual production to support export sales.
In September 2018, the USAF selected Boeing for its $9 billion T-X contract to replace its 59-year-old Northrop T-38C Talons.
Boeing believes there is a global market for 2,600 T-7s, both as trainers and light-attack or aggressor aircraft.
"Some statistics say one in four and advanced fighters in the world's air forces today are being used for training missions," says Thomas Breckenridge, vice-president of international sales in Boeing's strike, surveillance and mobility business unit.
"Having the fighter-like performance that the T-7 really enables pilots to not only train more effectively, but will also enable air forces to use a more affordable option rather than the advanced fighters that were intended for operational use."
Boeing says it is ready to offer offsets to win contracts with foreign nations, but declines to specify parts of the T-7 which could be readily outsourced.
To date, the company has flown its two engineering, manufacturing and development assets more than 150 times from its facilities near St. Louis, Missouri.
Updated on 13 February: Article changed to note that the international derivative of the USAF's T-7A Red Hawk is simply called the T-7.