Airbus chief executive Guillaume Faury has expressed concern over the disparity between European and North American space launch capability, during an event in London.
He spoke at the social event – attended by several members of the UK's parliament, as well as business figures – on 24 January.
Participation in the European Space Agency, Faury said, had allowed he UK to become a "space export powerhouse", with production of large communications satellites – such as the latest Inmarsat-6 which provides services including aircraft on-board connectivity.
The first of a pair of Inmarsat-6 craft – the I-6 F1 – was carried into orbit by a Japanese vehicle in December 2021, and the second is due for launch in February this year on a SpaceX Falcon 9 from Cape Canaveral.
"Why Florida?" Faury said, highlighting the upcoming flight. "Well, Europe has all but lost its independent access to space. And that is untenable."
Faury pointed out the contrast between the small number of Ariane vehicle launches scheduled this year and the far-higher number expected to be handled by SpaceX – "two [versus] 100" – and urged action to shift the balance.
"Governments and businesses need to work together to address this, and ensure the region continues to have competitive sovereign launch capability," he said.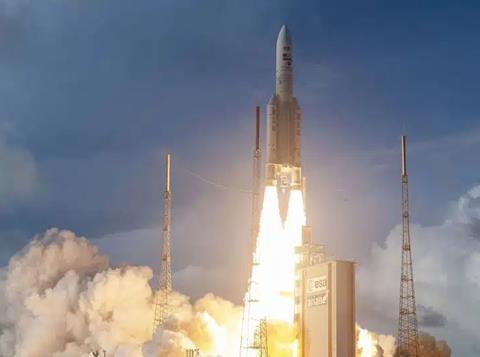 In November last year European ministers, at a meeting in Paris, agreed to a 17% increase in ESA's budget to nearly €17 billion compared with the €14.5 billion at the previous meeting in 2019.
Faury spoke two weeks after the failed inaugural satellite launch from the UK by Virgin Orbit, which was attempting to use a Boeing 747-400 carrier aircraft to air-drop a rocket with a commercial space payload.
"Everyone involved in Virgin Orbit will be disappointed," said Faury. But he added that those connected with the effort should be "proud of the pioneering work" to build commercial launch services in the country. "UK launch will remain important for Europe," he said.