UK aviation regulators have issued the country's first spaceport licence, granting it to Spaceport Cornwall, located near the south-western town of Newquay.
Spaceport Cornwall aims to use Newquay airport's runway and other facilities to carry out horizontal satellite launches using modified carriers such as Virgin Orbit's Boeing 747-400.
This aircraft departs conventionally with a satellite payload and deploys a launch vehicle while airborne, which then takes the satellite into low earth orbit.
Spaceport Cornwall has demonstrated that it meets statutory requirements on safety, security and the environment, says the UK Civil Aviation Authority.
UK transport secretary Mark Harper says the licence lays a "cosmic cornerstone" for the country's first orbital space launch.
"Virgin Orbit's planned launch reinforces our position as a leading space nation as we look to the future of spaceflight, which can spur growth and innovation across the sector, as well as creating thousands of jobs and apprenticeships," he adds.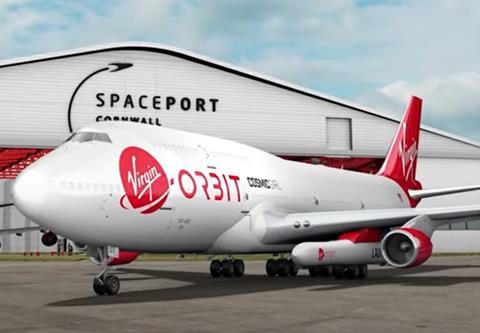 Chief executive of Virgin Orbit Dan Hart says the first licence marks a "point of distinction" for the spaceport, and is a "key preparatory milestone" for the launch "in the coming weeks".
The Civil Aviation Authority has already approved nearly 150 satellite licences since it took on the formal responsibility of being the UK space regulator last year.
Outgoing chief executive Richard Moriarty says the spaceport licence is "historic", adding: "When we became the space regulator, we committed to delivering in an open, effective and proportionate way, with public safety at its heart.
"Our work does not stop with this licence decision as we continue to assess other licence applications and oversee the effectiveness of licensed activities, all enabling the UK's space sector to grow safely and securely."
Work is progressing with a Scottish-based spaceport, known as SaxaVord, which is set to host launches and a ground station in Shetland.