The USA has returned to the human spaceflight business following the successful return to earth of the SpaceX Crew Dragon today, carrying NASA astronauts Bob Behnken and Doug Hurley.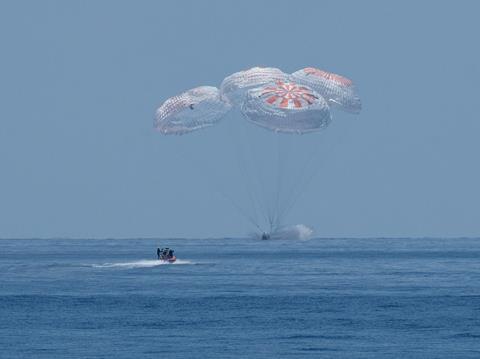 The Dragon capsule, named Endeavour, splashed down (above) exactly on schedule at 14:48 EDT (18:48 GMT) on 2 August in the Gulf of Mexico off the coast of Pensacola, Florida - one of seven targeted water landing sites.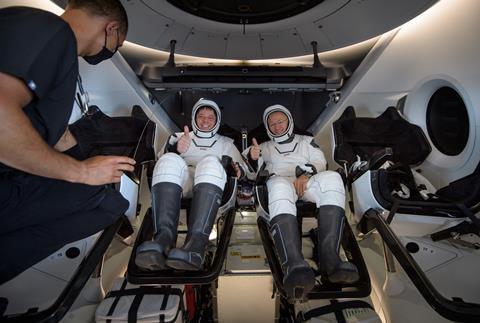 Endeavour's splashdown occurred at a vertical velocity of 7.6m/s (25ft/s), after 64 days in space. It followed a smooth return mission which began at 19:34 EDT on 1 August when the Crew Dragon undocked autonomously from the International Space Station (ISS) at a height of around 420km (260 miles) above the Earth. Re-entry into the Earth's atmosphere began 19h later over Australia when Endeavour carried out its de-orbit burn after jettisoning its "trunk" (see graphic below).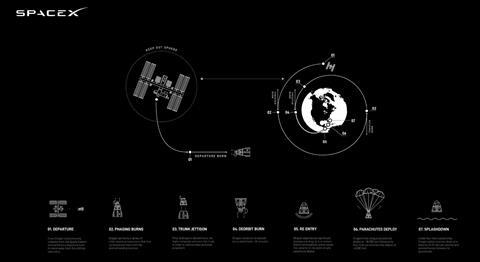 Source: SpaceX
After splashdown, SpaceX tweeted: "Good splashdown of Dragon confirmed! Welcome back to Earth, @AstroBehnken and @Astro_Doug!"
The capsule was quickly recovered by SpaceX onto recovery ship "Go Navigator" and after final checks the two crew were able to exit Endeavour ahead of their return to shore and then flight back to Houston.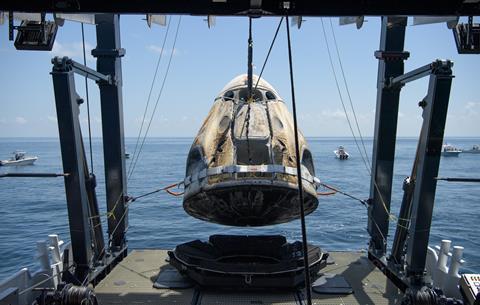 "Welcome home, Bob and Doug! Congratulations to the NASA and SpaceX teams for the incredible work to make this test flight possible," said NASA Administrator Jim Bridenstine.
NASA says that the return of Behnken and Hurley was the first splashdown for US astronauts since Thomas Stafford, Vance Brand, and Donald "Deke" Slayton landed in the Pacific Ocean off Hawaii on 24 July 1975, at the end of the Apollo-Soyuz mission.
The capsule carrying Behnken and Hurley blasted off on its Demo-2 mission from NASA's Kennedy Space Center on 30 May aboard SpaceX's Falcon 9 launcher. It successfully docked with the ISS the following day.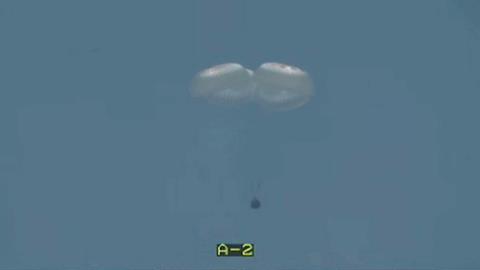 Today's successful completion of the second demonstration mission enables the SpaceX human spaceflight system to be certificated by NASA for operational crew missions to the ISS. Once SpaceX and NASA have completed all data reviews required for certification, NASA astronauts Victor Glover, Mike Hopkins, Shannon Walker and Japan Aerospace Exploration Agency (JAXA) astronaut Soichi Noguchi, will travel on the first six-month operational mission (Crew-1), which is targeted for launch in late September.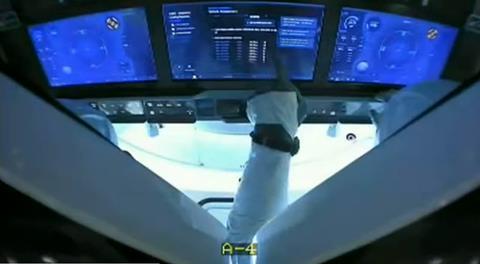 SpaceX says that the Dragon spacecraft is capable of carrying up to seven passengers to and from Earth orbit, and is the first private spacecraft to take humans to the ISS.