It's been a busy year for Virgin Galactic, the Richard Branson-led bid to shape the future of human spaceflight. After some 15 years in development marked by delays and two fatal accidents – one on the ground and one in flight – 2019 opened with the hangover of celebrations from December 2018's first flight to space and safe runway landing by the company's air-launched rocketplane. Then, in February, the company pushed the envelope a bit further with a second flight of the two-crew craft, designed to give up to six paying passengers a few minutes of weightlessness, stunning views and, hopefully, a new perspective on humanity's place in the cosmos – or at least on Earth.
Those celebrations included the US Department of Transportation awarding commercial astronaut wings to Virgin Galactic pilots – both flights cleared a longstanding US definition of space as starting at 50 miles up (80km). Neither, mind, reached the 100km – roughly 62 miles – international standard, and even at the 315,000ft billed as its objective, the project will barely reach 96km. That may be splitting hairs for the purpose of an afternoon's outing; anyway, as chief test pilot Dave Mackay (Scottish-born, ex-RAF, and now his homeland's first-ever astronaut) told the Royal Aeronautical Society in London earlier this month, taking passengers much beyond 50 miles adds only a few seconds to the flight while dramatically increasing the g-load on descent.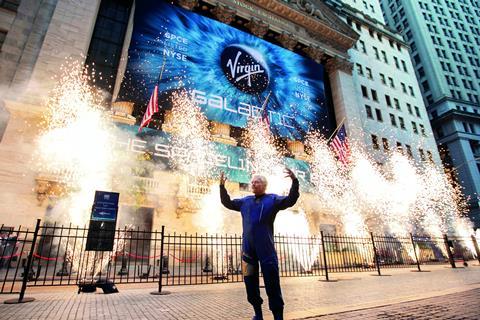 As things stand, February's flight – to 295,000ft or 89.9km – was the last to date but with its two pilots and a team-member as passenger to validate interior concepts, VG is making good headway building a second "SpaceShipTwo" and may – if it is safe, stresses Mackay – begin flying the approximately 600 "astronauts" that have signed up to fly, and in some cases paid deposits on the quarter-million-dollar ride ticket.
Spaceship development aside, Virgin Galactic has been busy in 2019. The company unveiled its futuristic terminal at Spaceport America in New Mexico, and Branson modelled the Under Armour-supplied "spacewear system" jumpsuits its passengers, or astronauts, will wear.
Those astronauts will not only get a natty outfit. They will have exclusive access to a limited-edition Land Rover. The Astronaut Edition features "unique Zero Gravity Blue paint inspired by the beautiful effects of the night sky, plus a bespoke Virgin Galactic puddle lamp design". Its "one-off interior design includes [a] custom cup holder crafted from the spaceship's front landing skid, 'DNA of Flight' logo graphic veneer and aluminium door handles with the Future Astronaut community constellation design". Price available on application, apparently.
Then, in July at the Kennedy Space Center in Florida, Virgin revealed a sculpture to mark the 50th anniversary of Apollo 11 and Branson's 69th birthday. This 2m (6ft)-diametre steel plate, which recalls an Aztec sundial and records "360 historic aviation and space achievements and milestones", will be a permanent exhibit at Spaceport America and, no doubt, a popular background for snaps of Astronaut Edition Land Rovers with personalised number plates.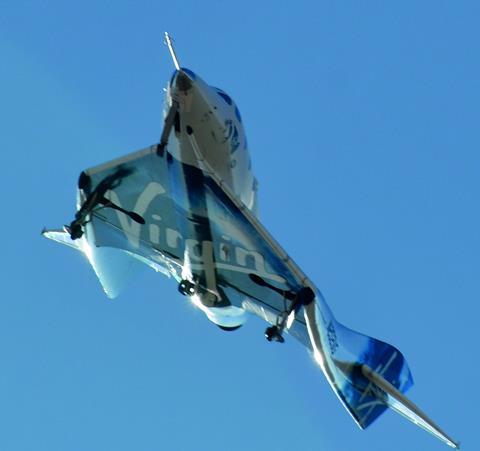 But the real action was financial. Third-quarter results showed a nine-month pre-tax loss of $138 million – dwarfing the $92 million lost in the same period of 2018 – on revenue of just $3.3 million, from transporting scientific payloads and engineering services.
But while the company looks to be burning money as fast as rocket fuel, investors seem undeterred. October saw Boeing announce a $20 million investment, and the completion of a merger with investment vehicle Social Capital Hedosophia, which will pump in some $400 million. Branson then opened up for trading on the stock market in New York (left).
That is on top of the more than $1 billion invested since the company was formed in 2004. With a trading outlook that includes $80 million in deposits collected and "over $120 million of potential revenue", Virgin Galactic would appear to be laughing at financial gravity.
Or is it? Boeing's investment statement said: "The companies will work together to broaden commercial space access and transform global travel technologies." Indeed, the prospect of exploiting Virgin Galactic's work to develop hypersonic point-to-point suborbital transport has long been on investors' radar. As long ago as 2009, Abu Dhabi's Aabar Investments, a long-time partner, had its eye on 2h flights between its home turf and, say, Los Angeles.