Start-up Canada Jetlines is targeting summer 2022 for its long-awaited launch, with plans to begin charter flights from Toronto Pearson airport.
The new entrant intends to fly domestic-Canada routes and to international destinations, including those in the USA, Mexico and Caribbean.
Jetlines announced its launch timeframe on 7 April but has not specified a date. Chief executive Eddy Doyle says Pearson will be the carrier's "primary travel hub".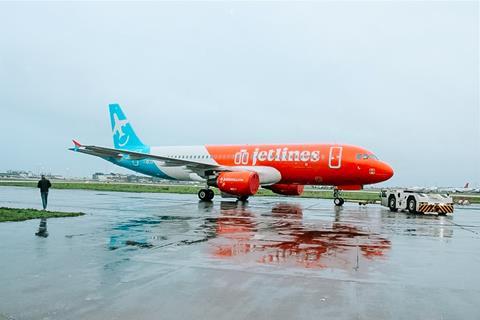 "This partnership will allow us to better service both domestic and international travellers to and from Canada's busiest airport," he says.
Jetlines positions itself as a "value-focused leisure carrier" instead of an ultra-low-cost carrier (ULCC), putting it more in the competitive segment occupied by companies like Sunwing Airlines and Air Transat. The nascent Canadian ULCC field is crowded with newcomers Flair, Lynx, and Swoop.
Jetlines' pace toward launch is picking up, as it works to obtain the necessary air operator's certificate from Transport Canada before beginning operations.
Jetlines announced on 4 April that it received conditional approval for flight attendant training. The first class is scheduled to begin this month, with an eye toward completion by the end of May, according to the company.
In February, the airline took delivery of its first Airbus A320 – a used and leased jet. It plans to add four more jets annually, with 25 in the fleet by 2025.
The Canadian carrier has a significant US connection with Miami-based Global Crossing Airlines Group and its new charter carrier GlobalX Airlines. GlobalX shareholders hold a 25% interest in publicly listed Jetlines.
"The two airlines will continue to work together on operational needs and support each other with aircraft and assets," says GlobalX chief executive Ed Wegel. He notes the airlines will provide each other lift with their similar fleets of Airbus A320s.
Jetlines' launch has been marked by fits and starts since its founding in 2013, with operations initially pencilled to start in 2018. Back then, it planned to operate leased Boeing 737-800s and to fly from a Vancouver, British Colombia base.
The pace picked up when Global Crossing Airlines Group got involved in 2019.
"Jetlines had attracted 13,000 investors and had burned through $25 million in investment," says Wegel. But the new entrant had little to show: no aircraft, no certificate.
In 2021, GlobalX spun off Jetlines, helping raise capital for the latter.
"We were very happy to be able to facilitate the spin-off of Jetlines to complete the vision of creating two airlines from the shell," says Wegel on 7 April.