To accommodate Frontier Airlines' surging growth at Denver International airport, the ultra-low-cost carrier (ULCC) intends to develop a new 14-gate facility.
The Denver-based ULCC has proposed to develop a 11,148sq m (120,000sq ft) terminal, of which one-third will be new construction, with the balance being remodelled space, it says on 6 April.
Frontier's plan calls for converting its currently constrained nine-jet-bridge-equipped gate operation to 14 gates, with passengers boarding from the tarmac. The facility, located at the east end of Concourse A, will enable boarding from front and rear aircraft doors, Frontier says.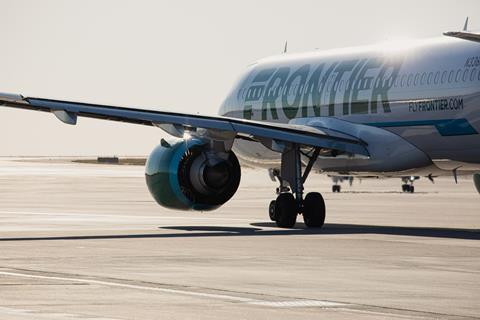 Frontier chief executive Barry Biffle says the facility will reduce aircraft turn times – the amount of time a jet sits at a gate – by nearly half, and "nearly double our number of aircraft operations per gate". Frontier already serves 80 destinations from Denver and is seeking additional throughput to accelerate growth.
The ULCC is the number three airline at Denver, carrying 9% of seats, but has been growing rapidly, with its capacity in April up 15.6% from April 2019, according to Cirium.
The new facility "will bring even more service and more ultra-low fares to more people to Denver," Biffle says.
Frontier already uses ground-level boarding – known as "hardstand boarding", in airline speak – at one Denver gate, and at other cities, like Burbank. Ground-level boarding of large jets is common around the world but in the USA is more-commonly reserved for boarding regional aircraft.
The single-level design will allow for rapid construction of the first four gates, scheduled to come online in fall 2023. The full project is to be complete by summer 2024.
Frontier also proposes construction of a 743sq m maintenance facility adjacent to the new gates.
The project is budgeted at $183 million – a relatively small amount compared to the price of other infrastructure projects at Denver airport. Those include construction of 39 new gates built on three concourses – initially budgeted at $1.5 billion, according to the airport. Also, the final construction phase of the airport's central "Great Hall" began in January; that effort's $2 billion price is now nearly three times its original budget, according to The Denver Post.
Denver is now the world's eleventh busiest airport and since 2019 has been the fastest-growing major airport by capacity, Cirium data shows.