In the wake of its proposed takeover of Spirit Airlines, JetBlue Airways finds itself peppered with questions about how such a move will affect its nascent "Northeast Alliance" (NEA) with American Airlines.
But JetBlue chief executive Robin Hayes insists merging with Spirit will actually strengthen his carrier's case with US Department of Justice (DOJ), which has sued to force JetBlue and American to unravel their partnership.
Hayes says the DOJ is concerned about JetBlue and American having excessive network concentration in markets covered by the NEA.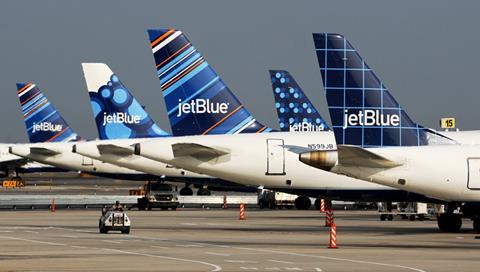 "This [merger] addresses that issue very clearly", because the percent of JetBlue's network within the NEA will diminish if JetBlue expands by acquiring Spirit, Hayes says.
Acquiring Spirit would let JetBlue compete "even more vigorously" with American, adds Hayes, using the battleground of South Florida as an example.
JetBlue entered American's fortress hub of Miami International airport – where American controls 62% of seats – in 2021, after the NEA started. JetBlue competes with American there on routes to New York, Boston and Los Angeles.
Likewise, a combined JetBlue-Spirit would have 50% seat share at Fort Lauderdale/Hollywood International airport, giving it improved ability to challenge American at nearby Miami.
Should Spirit's board accept JetBlue's offer, JetBlue potentially finds itself in uncharted waters, facing regulatory scrutiny on two fronts: the DOJ's existing NEA lawsuit and a new antitrust review of the Spirit acquisition, approval of which is by no means a slam dunk.
A trial in the DOJ's NEA-related case against American and JetBlue is not expected until September. Hayes says he believes it will be wrapped up before the DOJ begins reviewing a JetBlue-Spirit.
"At first blush, the timing… and requisite regulatory review appears less-than-optimal, given DOJ's current suit to block the JetBlue-American Northeast Alliance," says a JPMorgan report on 5 April. JPMorgan also suspects the DOJ will complete its NEA alliance case first.
"At least JetBlue already has [the] DOJ on speed dial," the report adds. "We've never confronted a deal involving an airline already on the receiving end of Justice's ire."
Airports up for scrutiny by the DOJ could include New York LaGuardia and Boston Logan.
If JetBlue's proposed merger with Spirit goes through, and if the NEA remains in place, JetBlue and American stand to hold 41% of seats at LaGuardia, roughly tied with Delta Air Lines, and 49% at Boston, Cirium data shows.