EasyJet's £1.2 billion ($1.4 billion) rights issue will be used to reduce debt, help deliver a strong financial position going into the winter season where demand remains uncertain and give the carrier funds available to take growth opportunities as they arise, says EasyJet chief executive Johan Lundgren.
Lungren was speaking to journalists at London Gatwick at a press event this morning, Addressing the question of a recent bid to acquire EasyJet, which is widely believed to be from Wizz Air, Lundgren said that because of the timing of the rights issue the approach had to be included in the prospectus.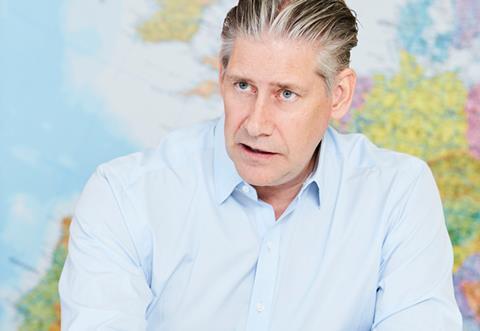 "We looked at the approach very carefully at board level," he says. However, "this offer did not represent value to shareholders…it was highly questionable if it could be delivered overall," he says.
Lundgren, who describes the approach as "opportunistic", says it is understandable that speculation around consolidation and deal-making occurs during times like these. "We are not against transactions, but they have got to deliver value and be deliverable," he adds.
Given EasyJet's large slot portfolio, Lundgren describes the carrier as a "valuable target" with its network, brand, and people. The business is also looking at opportunities itself, he explains. "It is a normal part of what you are doing," he says.
Although some of the money raised by the rights issue will pay down debt, the cash will be available for potential growth and investment opportunities, says Lundgren. Some have been identified while some have been partially identified, he says. For instance, the carrier has announced it will acquire a further five aircraft to expand its seasonal bases from May 2022 with two aircraft in Malaga, two in Palma de Mallorca and one in Faro.
"This is an example of where we can take opportunities," says Lundgren.
Lundgren has been engaging with shareholders over recent weeks to explain the thinking behind the rights issue and has received "very broad support" on the need for the investment.
"It helps us get back to the credit metrics we had when we came into the pandemic," explains Lundgren. At that point the business had net debt of £326 million. It now stands at just under £2 billion, he says. This is a burden on the balance sheet and means it is more difficult to invest when opportunities do occur, he adds.
In addition, the extra funds will "protect ourselves against any further downsides" related to the uncertainties in demand related to the pandemic induced crisis, especially during the weak winter period, says Lundgren.
EasyJet is highly exposed to the UK market where the recovery in demand has been much weaker than in its mainland European markets, notes Lundgren. In the current quarter the carrier is flying 32% of its pre-Covid capacity on UK routes, compared to 73% on its European routes.
The UK Government's announcement on the easing of Covid-related travel requirements is welcome, but a lack of clarity on the pace of recovery of the important UK market has made EasyJet cautious about adding capacity back. Lundgren stresses that the airline only puts routes back into the network that make a "positive contribution", helping to reduce its operational losses in the last quarter.
However, in the few days since the announcement easyJet has seen bookings boom in some markets with rises of 400% for destinations in Turkey and Egypt, while its London Gatwick to Geneva service for the ski season has been its strongest route.