Restructured Scandinavian carrier Norwegian posted an operating profit of NKr1.5 billion ($147 million) for 2022, after reporting a small loss in the low-demand fourth quarter.
It marks a return to full-year profit for the carrier, which underwent a major financial restructuring during the pandemic and focused operations on its core short-haul business. The airline made a pre-tax loss of NKr2.8 billion in 2021 and had struggled for profitability in the years prior to the pandemic, prompting a strategy change even before Covid hit.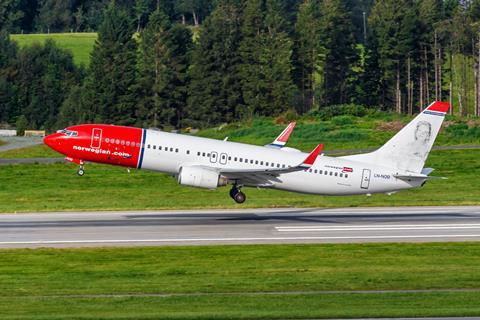 Norwegian recorded an operating loss of NKr39 million in the fourth quarter. While that compared with a pre-tax profit of NK117 million for the fourth quarter of 2021, the airline says this demonstrates its ability to adjust capacity and conserve liquidity when moving fom the peak summer season to the quieter winter period. The airline reduced its capacity by up to 30% compared with the third quarter.
Norwegian chief executive Geir Karlsen says: "We now close a chapter on 2022, a year where our operations have performed well, in spite of sweeping industry challenges across European airports. For the full year, we delivered an operating profit (EBIT) of NKr1,502 million despite record-high fuel prices and a strong US dollar."
Full-year revenues almost quadrupled from just over NKr5 billion to almost NKr19 billion in 2022.
"We are seeing strong bookings into 2023," Karlsen said at an investor briefing today. The airline expects to lift ASK capacity by a quarter in 2023 and is targeting an increased unit revenue and a reduction in unit cost before fuel of 5-10%. However, it warns: "High fuel prices and a strong US dollar may have an adverse impact on the company's financial results for 2023."
Norwegian increased its fleet during 2022, ending the year with 70 aircraft. It will boost this to 81 for this summer – lower than then 85 it originally planned due to delivery delays of Boeing aircraft – after earlier this month signing a preliminary deal with Air Lease for six more Boeing 737 Max 8s, to help offset the delays.