Ryanair chief executive Michael O'Leary says the carrier is reluctant to offer profit guidance for the coming financial year based on the "fragile" nature of the travel industry's recovery and the potential for future headwinds such as a recession or a resurgence of Covid-19.
The pan-European low-cost carrier turned in a full-year net loss of €355 million ($369 million) for the year ended 31 March. and sees a sharp recovery in passenger numbers this year as it to returns to expansion mode.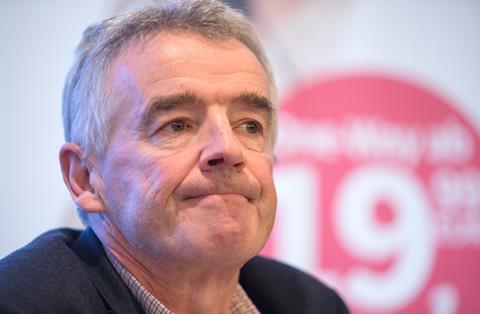 But that rebound may not translate to higher profits. "I think we will see a strong traffic recovery this year, but it is impossible to predict what the average fares will be like through the second half of the year," O'Leary said in a briefing released with Ryanair's financial results on 16 May.
"That's why we are saying we can't give anyone any accurate profit guidance for the next 12 months, it's too fragile, there are too many moving parts.
"We think there is a prospect of modest profitability over the next 12 months. If everything goes right, it could be better. If there are adverse news flows, particularly on Covid into next winter, recession [or] Ukraine, I think we will still be profitable, but the profits would be significantly behind where they were pre-Covid, and its too early to say."
Ryanair has been among the most pro-active airlines in returning capacity since the pandemic and is planning summer capacity to be around 15% above 2019 levels. It expects to carry 169 million passengers for the year ending March 2023, compared with 97 million over the past 12 months.
"The fact that we got through Easter and so many families travelled, that has delivered a very significant confidence boost to the system. So Since Easter bookings have been strong," he says. "But forward bookings remain high single-digit figures behind where they were pre-Covid. That means the situation remains fragile.
"I think it's fair to say, and we have been open about this, in [the first] quarter, average fares are running behind where they were pre-Covid, because we are driving price using our cost advantage to rebuild forward bookings. I think there is a reasonable prospect at this stage fares in the second, September, quarter will be tracking ahead of where they were pre-Covid, but any negative news flow, and that will fall over again."
He points to the impact on demand from the Omicron variant of Covid-19 and Russia's invasion of Ukraine. "The summer peak looks strong at the moment, but that takes us into the winter and at the moment we are facing a winter where we are looking at possible adverse Covid news, possible adverse Ukraine news, and… economic outlooks [that] look very bearish. So we should just be cautious."
O'Leary believes, however, the airline is well-placed to handle any economic downturn, returning to his argument that lowest cost always wins during such periods.
"In a recession people get more price-sensitive, that benefits the lowest-cost producers. People will still travel, but they want to do that in a more price-sensitive manner," he says.
"I think we will not just do well, I think we will thrive if there is a significant economic downturn or recession in Europe – particularly those markets where we have seen an enormous market-share gain."
He adds that even in a recession the airline would still take another 55 Boeing 737 Max jets this winter and grow passenger numbers to 180 million over the next two years.
Ryanair plans to operate 70 rather than 65 Boeing 737 Max aircraft this summer. "We have taken some extra aircraft at Boeing's request this summer – and we have the growth opportunity to be able to handle that," says O'Leary,
However he notes the are still challenges with aircraft deliveries,and adds that he is "disappointed" with Boeing's response since the breakdown of talks last September over a possible order for Max 10s.
"I think what is important to emphasise is we don't need any new aircraft to hit our 225 million [passenger] target by 2026, but we remain open and available and looking for aircraft opportunities to cover the period 2026 to 2030. We are in the market at the moment, we have a request out there at the moment for proposals for second-hand Airbus [narrowbodies] and 737s and we'll what see that come out of those discussions."
Ryanair operates a predominantly Boeing narrwbody fleet, though its Lauda Europe unit has a fleet of 29 Airbus A320s.
O'Leary adds: "I think Boeing – certainly on the commercial aircraft side – needs to up its game and we need to see more deliveries from Boeing, particularly for the larger customers like Ryanair."