Ryanair has axed more than 250 office-based jobs at four locations and will this month announce details of its plan to slash up to 3,000 crew positions.
The Irish budget carrier says it has reduced its office headcount in Dublin, Stansted, Madrid and Wroclaw by over 250, "through a combination of probation/fixed term contract ends, resignations and redundancies".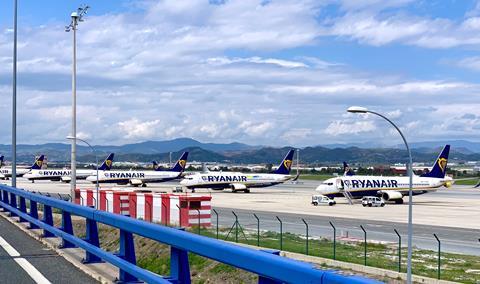 Ryanair has determined that "these people will not be required to return to work" when its offices reopen on 1 June, as a result of the "substantial decline in traffic" the group's airlines are facing in 2020.
"Regrettably, we will now have a small number of compulsory redundancies in Dublin, Stansted, Madrid and Wroclaw to right-size our support teams for a year when we will carry less than 100 million passengers due to the Covid-19 crisis," states Ryanair people director Darrell Hughes.
He adds that the airline continues to meet with its pilot and cabin-crew unions to finalise up to 3,000 job cuts and a 20% reduction in pay, ahead of a plan to resume 40% of its flight schedule from July. Further details on these cuts are expected to be unveiled "before the end of May", says Hughes.