While all eyes were on whether regulators would ultimately spoil Frontier Airlines' planned takeover of Spirit Airlines, JetBlue Airways quietly hatched a spoiler of its own.
On 5 April, word leaked that New York-based low-fare airline JetBlue made its own unsolicited bid to acquire Miramar, Florida-based ultra low-cost-carrier Spirit.
JetBlue's surprise $3.6 billion all-cash offer to purchase Spirit at $33 per share represented a 57% premium above Spirit's share price as of 5 April.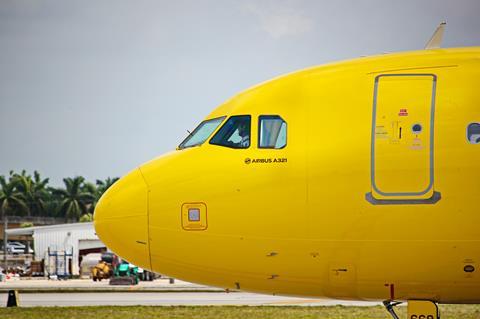 It resoundingly trumped Frontier's cash-plus-stock offer, which valued Spirit at $2.9 billion. Frontier had proposed granting Spirit stockholders nearly two shares of Frontier stock, plus $2.13 per share.
Frontier's proposal would see that carrier swallow the much-larger Spirit, leaving Frontier's majority shareholder Indigo Partners holding 51% of the merged carrier. Indigo is led by William Franke, also chair of Frontier's board.
Spirit says its board if directors is evaluating the proposals.
The decision may not be easy, as Spirit's board must weigh a number of factors, including those related to employees and stockholders. Financially, JetBlue's bid guarantees a clean all-cash payout to Spirit shareholders. Frontier's offer, by including a stock-transfer component, leaves more risk in the hands of Spirit shareholders – but also more potential reward in the case that the merged company's stock soars.
Markets have not been kind to airline equity holders for the last five years, even before the pandemic and recent fuel price increases. Spirit's margins and stock valuation peaked more than five years ago. Frontier's stock has declined precipitously, too, from a year ago when it went public.
Spirit labour leaders might be expected to favour JetBlue. JPMorgan has noted that JetBlue's pilots can earn more than Spirit's. Though Spirit's labour relations have improved, the airline suffered through a difficult pilot strike in 2010.
Neither scenario seems to bode well for Spirit's South Florida corporate employees or headquarters – as both Frontier and JetBlue are based outside the state.
Figuring heavy into Spirit's decision is surely which deal is most likely to pass muster with the Department of Justice.
How the DOJ might lean remains unclear. Joining JetBlue would create a much-larger, high-cost airline, while joining Frontier would create a single mega-ultra-low-cost airline. Either scenario would leave the USA with only one ULCC of national relevance.
Frontier has not signalled how it might respond to JetBlue's counter bid. It could submit a counter offer, but it will likely be wary of overpaying. Financial analysts viewed Alaska Air Group of paying too much for Virgin America in 2016 after a counter-offer from JetBlue drove up the price.
"Nothing changes as a result of this news. Our agreement to combine with Spirit remains in place", says Frontier chief executive Barry Biffle.
Story updated on 7 April to include details about Spirit's South Florida operation.