Canadian simulator manufacturer and operator expects market recovery to begin in final quarter of 2020
The grounding of most of the world's aircraft and pilots has hit demand for training equipment and services, but CAE remains cautiously optimistic about an upturn in the final quarter.
The Canadian company – market leader in full-flight training devices and services – predicts a financial year of "two halves", with "sharply lower demand and major disruptions to our operations" in the six months to September, followed by a "more positive" October to March 2021 as "markets potentially begin to reopen and travel restrictions ease".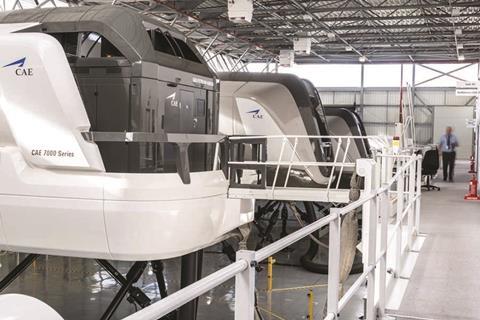 Reporting its full-year results for the 12 months to end-March, chief executive Marc Parent said CAE had been forced in March to suspend operations at one third of its training locations and put others on reduced capacity, while installation and delivery of simulator products was put on hold. Production has since resumed at its main factory in Montreal.
He says that, although airlines have suspended a "vast proportion" of the commercial fleet, this is not having a "proportionate impact" on training demand, partly because of requirements for recurrent pilot training, typically every six to nine months. Although many countries have granted dispensations, "training requirements will ultimately need to be fulfilled for pilots to retain their licences and resume flight duty". CAE also believes "more airline training partnership and outsourcing opportunities should materialise as the industry looks for ways to gain greater agility and resiliency" in the post-Covid-19 era.
CAE, which additionally operates in the military market and has a small healthcare training business, saw annual revenues rise 10% to C$3.6 billion ($2.56 billion) compared to the previous year.
The company says the long-term outlook for its defence segment, which represents just over a third of its revenues, "continues to be for growth", although the pandemic has led to delays in contract awards and the drop in oil prices has affected sales prospects in the Middle East.
CAE is completing a contract with the Canadian government to manufacture 10,000 ventilators for the fight against coronavirus after developing its own unit in 11 days.