Flying business class on a narrowbody aircraft used to mean a slightly bigger seat with a bit more legroom and a recline function. But that was before longer-range variants of Airbus's and Boeing's single-aisle jets hit the market. The introduction of aircraft such as the Airbus A321LR and the upcoming A321XLR, with respective ranges of 4,000nm (7,400km) and 4,700nm, has turned the narrowbody business-class cabin on its head.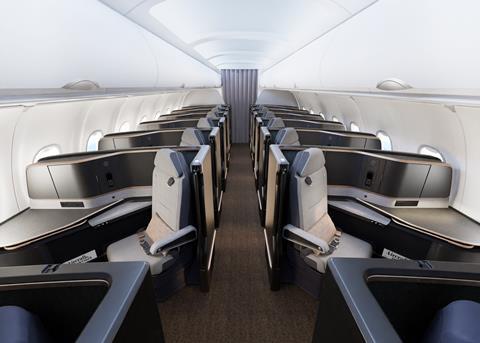 Airlines have realised that if they are going to charge passengers a hefty premium to take a long-haul flight on a single-aisle aircraft, the experience had better at least match that of a long-range widebody flight. This means a lie-flat bed, privacy and ample personal space – all of which comes with the added challenge of recreating the same experience in a much smaller space.
PREMIUM EXPERIENCE
Seat manufacturers have risen to the challenge, however. A range of options is now available to help airlines emulate, or even exceed, the premium experience that passengers have come to expect on twin-aisle aircraft, in the considerably smaller cabins of this new generation of long-range narrowbodies.
"When Airbus revealed the [A321]XLR, there was very strong and positive feedback from the airlines. It was a game-changer. But the next question was, 'okay, it's very good to have a single-aisle aircraft that's able to do an 8-9h flight, but currently on the market we don't have any business-class seats that fit in with this extra-long range'," says Alain Bordeau, vice-president of global sales and marketing at Stelia Aerospace – the premium seating arm of newly rebranded aerostructures business Airbus Atlantic.
"Mainly on the market at the time it was the recliner seat for much shorter 4-5h flights. So Airbus came to us and said, 'Can you think about seats specifically for this extra long-range aircraft?' And this was how the Opera seat was born."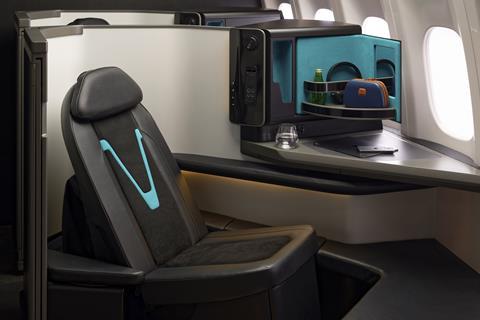 Stelia's Opera seat is marketed by the company as "the widest full-flat bed available on single-aisle". It is a reverse herringbone seat, meaning passengers face the window rather than the aisle, and it features a fully-integrated door for additional privacy.
Bordeau says the company took "the opposite" approach to competitors when designing the seat because instead of adapting a widebody product for the narrowbody market, it specifically developed its Opera for single-aisle aircraft from the outset.
"The requirements for a single-aisle are different than for a widebody – not only because of the size of the tube, but also in a narrowbody you have much lower luggage bins, so you need extra space in your seat," he explains. Another key challenge was making the seat as light as possible. Stelia achieved this partially through minimising the number of parts, says Bordeau, also making it easier to maintain. A widebody version of the Opera seat is also available.
STAR PERFORMER
Stelia's design intention was that the passenger experience had to be as good, if not better, than in the business-class cabin of a twin-aisle aircraft.
"We need to bring all the comfort and amenities from the widebody – even more, probably, because on single-aisles you don't have a galley with a bar to go to outside your seat. So the living space in our Opera seats for single-aisles is even bigger than on the widebody," says Bordeau. He adds that the average number of seats airlines are looking to install in their long-range single-aisle premium cabins is 14, in a two-abreast configuration.
Certification of the Opera is "almost complete", says Bordeau. The company has two undisclosed launch customers for the A321XLR – one in Europe and another based "outside Europe but not in the USA" – and is in "advanced discussions" with a potential customer on the A321LR.
Another window-facing reverse herringbone seat aimed at the long-range narrowbody market is Safran Seats' aptly-named Vue product, which the manufacturer revealed at last year's Aircraft Interiors Expo in Hamburg. Vue will be delivered to its first customers this year and will launch on a Boeing 737-family aircraft, says Quentin Munier, executive vice-president of strategy and innovation at Safran Seats. He declines to specify the 737 variant.
The Vue seat provides passengers with direct aisle access and an "easy exit, even with the TV or meal table deployed", says its manufacturer. It also offers "excellent" privacy, with no eye contact and the option of adding a door to the suite.
"It is no secret that matching the overall widebody passenger experience on a narrowbody presents a challenge: think about the number of available galleys, the boarding process, the single aisle, et cetera," says Munier. "It was key for us to be able to deliver a product that would match the most premium business-class products in widebody aircraft, while making the best possible use of cabin real estate and achieving the seat counts airlines were asking for."
Munier expects that most airlines deploying narrowbody aircraft on flights with a duration of more than 5h will want to install fully-flat beds in their business-class cabins.
"The long-haul narrowbody market is still in its early days and presents an interesting growth potential," he says. "With products like Vue, Safran Seats has been preparing for this new trend early on."
PASSENGER FACING
Collins Aerospace's Aurora business-class seat for long-range narrowbodies is also a herringbone offering but, unlike the Opera and Vue, passengers face away from the window and into the aisle.
"At the front of the aircraft we have a lie-flat seat called Aurora, which is essentially a herringbone seat with shoulders towards the window and toes towards the aisle, bringing a full privacy suite to the narrowbody and optimising it for the geometry of the aircraft," says Alastair Hamilton, vice-president of sales and marketing for aircraft seating at Collins Aerospace.
Speaking specifically about the A321XLR, Hamilton agrees that "airlines are trying to bring that widebody experience to narrowbody long, thin routes", which he says has created a number of challenges.
"A lot of the challenge this market provides is to optimise seat geometry for the narrow fuselage so you give the passenger the maximum living space and comfort that you can, but also get enough passengers on to the aircraft to make it commercially viable," observes Hamilton.
Andy Morris, senior vice-president commercial at Thompson Aero Seating – manufacturer of the VantageSolo lie-flat seat launched by JetBlue Airways in the business-class cabins of its transatlantic A321LR aircraft – says the New York-based carrier "has started the trend for providing a twin-aisle experience on single-aisle aircraft".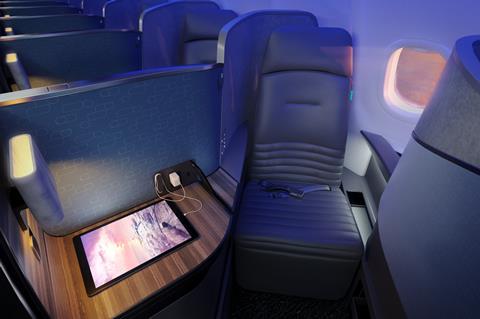 JetBlue opted for a bespoke version of Thompson's VantageSolo seat for the Mint-branded premium cabins on its transatlantic A321LRs. The carrier deploys the aircraft on routes linking New York JFK and Boston with London, and will add Paris to its European network this summer.
"The VantageSolo builds on the success of the original Vantage seat," says Morris. "It was the first 'ground-up' design for a single-aisle, full lie-flat business-class seat with full direct aisle access." The VantageSolo is an inward-facing herringbone seat.
Thompson has been delivering two different configurations of the VantageSolo to JetBlue, says Morris, one with 24 seats and the other with 16. The larger premium cabin is installed on its transatlantic flights, while the smaller cabin features on transcontinental domestic routes.
JetBlue's transatlantic A321LRs are configured with 114 economy-class seats, including 24 'Even More Space' seats with additional legroom. The 24-seat Mint cabin includes two seats branded as Mint Studio suites, which offer even more space. In addition to its A321LR fleet, the airline has 14 A321XLRs on order. Airbus had originally planned for the A321XLR to enter service this year, but this has now slipped to the second quarter of 2024.
Alongside its Vantage and VantageSolo lie-flat products, Thompson Aero Seating has also introduced a seat called VantageDuo. Morris says this product was "designed and engineered specifically to bring maximum comfort to the long-range, single-aisle market with no compromise on density, for those customers and routes that require great comfort but not a fully-flat seat".
Gearing up to compete alongside more established players in the long-range narrowbody premium seats market is newcomer Unum Aircraft Seating, led by Chris Brady, who previously founded economy-class seat maker Acro before it was sold in 2017 to China's Zhejiang Tiancheng Controls.
MAPPED OUT
The Unum One is a lie-flat herringbone seat that was initially developed with the A330 widebody in mind and then "mapped across" to also work on single-aisle aircraft, says Alan McInnes, vice-president business development at Unum.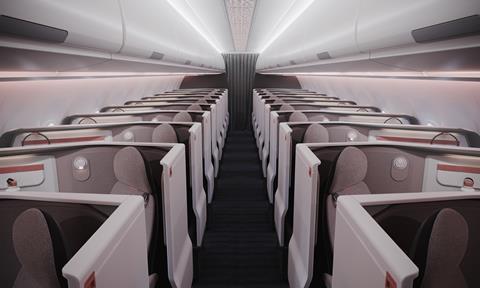 "We've got a seat that's capable of providing the key requirements of the widebody operators that also works effectively for the single-aisle operators," notes McInnes. "From there we set about identifying these key features that form Unum One as a family, whether it's a single-aisle or a widebody."
Unum does not intend to reinvent the wheel with its new seat and is "not a seat manufacturer who wants to be revolutionary", says McInnes. What it has set out to do is resolve some of the niggling complaints from airlines about herringbone seats that already exist in the market.
"It looks like a herringbone seat, and you will find herringbone seats from lots of other suppliers that do a fantastic job, but we would like to think we've solved some of the pinch points that cause our airline customers pain," he explains.
One of these pinch points is too little space in the footwell, as McInnes explains: "One criticism that we've consistently heard about herringbone seats is they have extremely constrained footwells. It's actually quite a difficult conundrum because you can give one passenger a bigger footwell but the passenger sitting in front of them will have their elbow up here."
Unum's solution was to develop a scimitar-track recline function that causes the height of the seat pan, which is normally fixed, to go down as the seat reclines.
"What this means is you present the passenger into the footwell at a lower level, so you make maximum use of the space available in the footwell," says McInnes, adding that "airlines tell us our seat mechanism is doing something different".
Unum is "in the midst of a certification programme" with the UK Civil Aviation Authority for the seat.
"The message you'll start to see over the next weeks and months is we are just about ready," says McInnes. "By the time we get to Hamburg we should have a certified TSO [technical standards order] seat. Final certification with the first customer will take place somewhere in an 18-24 month period."
Unum is in talks with "a number of airlines", he adds, and hopes to announce a launch customer this year. It will likely be for a post-delivery modification or a retrofit with "one of the tier two airlines", because the seat "will not be linefit approved in time" to accommodate the tier one carriers that have already ordered next-generation narrowbodies, says McInnes.
When it comes to how most airlines will configure the cabins of their long-haul narrowbodies, seat manufacturers have differing opinions. Stelia's Bordeau believes the majority will opt for a two-class cabin and eschew premium-economy seating, while Collins Aerospace's Hamilton says carriers are "typically going for a three-class layout" featuring business, premium economy and economy cabins.
Some airlines will opt against installing any premium seating and operate long-range narrowbody flights in an all-economy configuration, as central European budget carrier Wizz Air has indicated it will do with its A321XLRs.
"I don't think we should ever be surprised about how we see airlines' particular take on what the capability of the single-aisle gives them," observes McInnes. "If they want to go down the single-aisle lie-flat route, fantastic, let's have a proper discussion. But there will be some airlines that will fly that aircraft a very, very long way with an all-economy LOPA [layout of passenger accommodations]. Who's to say who's right and who's wrong?"