Hughes Network Systems is stepping out from the shadows as a direct provider of in-flight connectivity services after more than a decade as a behind-the-scenes operator.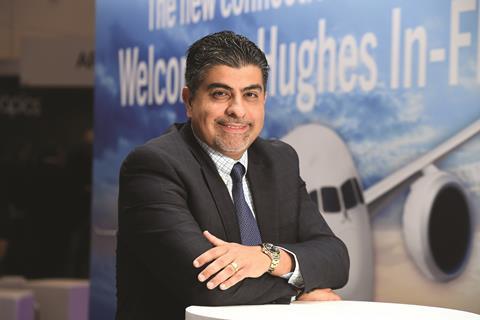 The US-based company, which operates the JUPITER geostationary (GEO) satellite system, is introducing three direct IFC services to the market: Hughes LEO In-Flight; Hughes Fusion In-Flight; and Hughes JUPITER In-Flight. It has signed a distribution partnership agreement with OneWeb, whose low-Earth orbit satellites will be used for the LEO and Fusion services.
To support the LEO-only and hybrid LEO/GEO solutions, Hughes has developed a lightweight, low-profile electronically-steered antenna (ESA), measuring 2ft by 2ft by 2.1in.
The Fusion service connects with OneWeb's LEO satellites and Hughes' JUPITER satellites, but is designed to work with any GEO network. The JUPITER service is a GEO-only solution now, supported by Ka-band high throughout satellite capacity from Hughes' JUPITER network across the Americas and partner networks in Europe, the Middle East and Africa, but will be multi-orbit later – either through OneWeb's Ku-band network or potentially through Ka-band LEO and medium-Earth orbit (MEO) satellite offerings including Telesat's Lightspeed and SES' O3b mPOWER services.
"Our strategy is a no-compromise strategy," says Reza Rasoulian, vice-president of Hughes' aviation business unit, emphasising the company's belief in a multi-orbit future for satellite-based connectivity.
"We've been in the IFC market for over 10 years as a managed service provider, network implementation and modem provider," says Rasoulian, adding that the decision to go direct to the market with its own suite of IFC solutions was "a natural evolution for us". He stresses, however, that Hughes will continue to work with partners in addition to going direct.
He declines to comment on whether Hughes' has signed any launch customers for the services, but says the JUPITER In-Flight solution is scheduled to launch in the first half of next year, with multi-orbit service to follow in early 2025.