Intelsat is unruffled by rival satellite in-flight connectivity provider Viasat's acquisition of Inmarsat, viewing the combination as "positive" because it reduces the number of competitors in the space, and as the latest example of consolidation in the market.
Luxembourg-based satellite company SES confirmed in March that it was in merger talks with Intelsat, which itself is no stranger to consolidation, having acquired Gogo Commercial Aviation in 2020.
While Intelsat is not commenting on the potential tie-up with SES, Dave Bijur, senior vice-president of commercial aviation at Intelsat, tells Flight Daily News that Viasat's acquisition of Inmarsat was "not the first" example of consolidation within the satellite IFC market and is unlikely to be the last.
"I suspect the wind of change will continue to blow in that direction," says Bijur.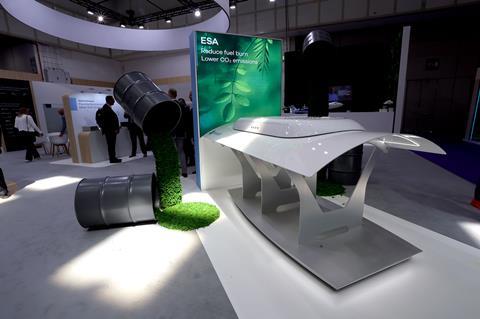 In addition to consolidation, Bijur predicts that there will be increased "differentiation" between IFC providers in terms of the types of satellite orbits they use.
"Viasat is not going to be a LEO [low-Earth orbit satellite] player and we are," he says, pointing to Intelsat's partnership with OneWeb to provide airlines with a hybrid GEO/LEO service. Alaska Airlines has already agreed to install the multi-orbit system on its regional jet fleet and Bijur expects more regional jet operators to follow suit as legacy air-to-ground (ATG) IFC systems reach end of life.
"All regional jet operators have to make a decision and ATG is yesterday's technology – they all want to go in the satellite direction," he says, adding that Intelsat is "close to" signing another regional jet customer for its multi-orbit service.
Intelsat's electronically steered array (ESA) antenna can operate between LEO and GEO satellites, providing airlines with the flexibility they crave, says Bijur. The lightweight antenna is also sought after by airlines because it can help them save up to $40,000 a year on fuel costs compared with traditional antennas, he adds. These savings, together with the polar coverage offered by LEO satellites, has meant that in addition to interest from regional jet operators, Intelsat's "booth at this show has been filled with long-haul airlines", he notes.
Intelsat also announced at the show that long-time customer Japan Airlines (JAL) has agreed to upgrade about 50 Boeing 737s and 767s to the company's 2Ku in-flight connectivity system. The service is designed to operate on today's high-throughput satellites, as well as with Intelsat's fleet of new software-defined satellites, which are scheduled to enter service in 2025.