Intelsat has unveiled its first multi-orbit in-flight connectivity terminal capable of interoperating with its existing geostationary (GEO) satellites in addition to new low-Earth orbit (LEO) and medium-Earth orbit (MEO) satellites.
The terminal relies on electronically-scanned array antenna technology from Ball Aerospace integrated with Stellar Blu Solutions' modular design, and will offer "simplified maintenance, access and improved reliability", says Intelsat.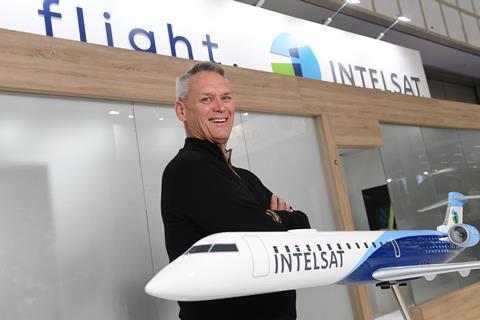 The low-profile antenna stands at 90mm (3.5in) tall, reducing drag, fuel burn and associated carbon-dioxide emissions, and can be installed on a variety of aircraft types.
It will initially communicate with Intelsat's GEO satellites and OneWeb's LEO assets, with the MEO orbit to be added in at a later date, says Intelsat president commercial aviation Jeff Sare. The multi-orbit IFC service will be branded as Intelsat but will "bring together the best of GEO and LEO" assets through a partnership with OneWeb, he adds.
"The promise of reduced latency [on the LEOs] brings the promise of being able to do more of the cloud-related functions we've become accustomed to," says Sare, adding that the multi-orbit strategy is about "supplying large amounts of capacity when and where possible."
Initially, the antenna will switch between orbits based on the geographical position of the aircraft but, in future, the process "will become more dynamic and based on algorithms", says Sare. He adds that Intelsat has had "nothing but positive reviews" from airlines during Aircraft Interiors Expo at Hamburg, noting that: "As an industry, we've been three years away from an ESA antenna for the last 10 years, and now it's finally here."
Intelsat has leased a Bombardier CRJ-700 to test the system and anticipates first installation of the multi-orbit terminal on the aircraft later this year. Sare says he expects to obtain supplemental type certification in the first quarter of next year with entry into service in late 2023 or early 2024.