Russian authorities have detailed an extensive procurement scheme to replace the foreign-manufactured avionics of Irkut MC-21s with domestically-sourced alternatives.
The procurement contract is valued at Rb1.7 billion ($27 million) is part of the Russian government's import substitution scheme intended to reduce dependence on overseas suppliers.
It takes into account the possibility that domestic manufacturers selected for the programme might also be providing equipment to the planned 75-seat version of the Sukhoi Superjet, known as the SSJ75.
The procurement details a timetable of development running from 2020 to 2023.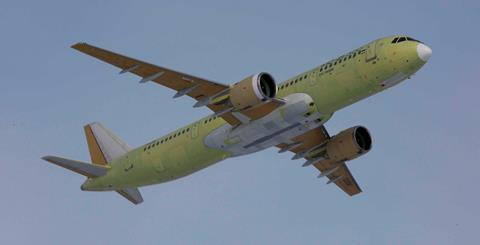 In a list of avionics software versions, ranging from initial bench-test prototypes to flight-test certification and serial production, the document references both the MC-21-300 and -200 variants – both with the Russian-built Aviadvigatel PD-14 engine.
The contract will run until at least one MC-21 is in operation, it states.
Irkut sourced avionics from western suppliers, such as Collins Aerospace, during the MC-21's development.
Procurement of the avionics is one of the most significant of the import-substitution efforts undertaken for the MC-21, which have covered multiple aspects of the twinjet's overall design.